Tips to Prevent Leaks with Reusable Cloth Nappies
Share Options
Bambino Mio
09 / 05 / 2023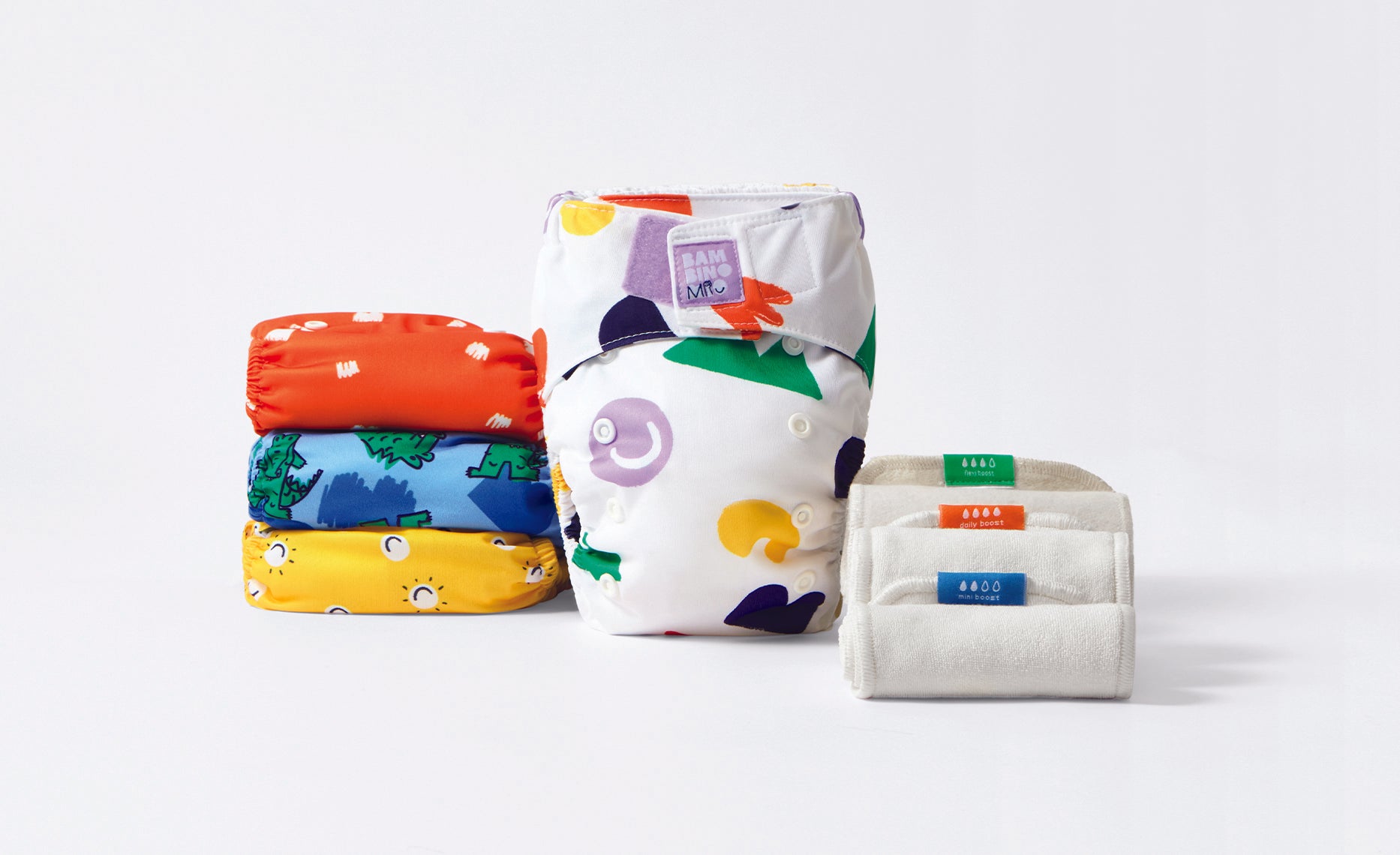 Inside this Article:
When you first start using reusable nappies, you might worry that they'll leak more than disposable nappies and wonder if they're the right choice for you and your baby. Bambino Mio has lots of good news for you!
Modern washable nappies are designed to be as leakproof as possible so that users find them comfortable and convenient.
No one expects you to put up with leaky nappies, so if you do find you're often having to change your baby's clothes as well as their nappy, there are some easy fixes for you.
Make sure the nappy fits properly
Reusable nappies don't need to be as tight to the body as disposable nappies, especially around your baby's waist, which should be a little loose to maintain comfort. The area you really need to pay attention to is the leg elastics, as this is where most nappy leaks will happen.
When you're putting a clean reusable nappy onto your baby, pull the leg cuffs up into the knicker line before securing the waist tabs so that the cuff elastic fits "nicely" (hard to explain, but we all know what this means…).
Another fitting issue is when the front panel of the cloth nappy starts to fall down underneath the fastening tabs. This can cause leaks at the waist and can actually be resolved by making the nappy a little looser around your baby's tummy so that the front panel isn't scrunched up or gappy.
Is your baby's clothing too tight?
Essentially, the business part of a washable nappy acts like a highly absorbent natural fibre sponge, which is great at collecting and holding liquid - until it gets squeezed, that is.
If your baby's vests are too tight between their legs, the gusset will put pressure on the nappy inserts (the "sponge") and will squeeze out urine before the nappy is "full". Dressing your baby in looser vests, babygrows and trousers or using vest extenders should help to prevent these compression-related leaks.
Do you need a nappy booster?
Cloth nappies don't use absorbent gels to hold your baby's wee, they use layers of very absorbent natural fabrics. The trick to preventing leaks is to make sure you're using enough layers to last long enough between nappy changes.
If you're having to change your baby's cloth nappy every 2-3 hours because of leaks, then you might need to add an extra booster pad to reduce the changing frequency. Bambino Mio's classic flat nappy insert can hold several times its own weight in liquid and is ideal on its own for newborns or as a booster for extra absorbency with heavy wetters and older babies.
You can overdo inserts, though! Using too many can push the waterproof outer wrap away from the knicker line or cause compression leaks, so watch out for this happening.
Is the cloth nappy's outer wrap in good condition?
If you're using a two-part reusable nappy system then check the outer waterproof wrap for wear and tear, holes, degraded elastic or bubbled patches. You can prolong the life of your nappy wraps by washing them at 40C and air drying it away from direct heat and sunlight.
Bambino Mio also does all-in-one nappies and you should take equally good care of the outer layer on these, making sure you use a non-biological detergent and using a gentle laundry booster for extra hygiene.
Have your reusable nappies reached their full potential?
If your cloth nappies are spanking new, their fibres might not have reached their full potential for absorption yet.
Lots of expectant parents run their new reusable nappies through several washing and drying cycles before the baby even arrives to make sure they're as absorbent as they can be.
You might also want to add an extra rinse at the end of each wash to prevent a build up of detergent or nappy creams, which can happen over time. Modern washing machines often have a water-saving function and this can prevent your nappies from rinsing thoroughly, so for nappy washes, turn this function off. Using fabric conditioner is also a big no-no, because it will coat the fibres and prevent them from absorbing liquid.
---