Reusable Nappies: How Long Do Reusable Nappies Last?
Share Options
Bambino Mio
09 / 05 / 2023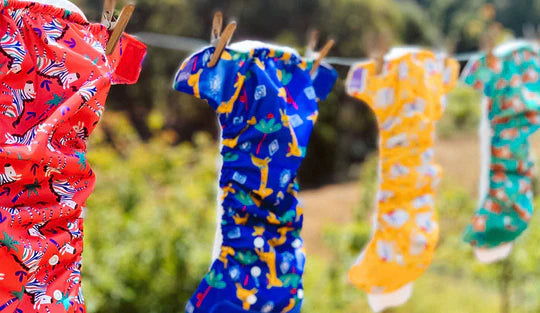 Find out how long reusable nappies last for, when to start using reusable nappies and some handy tips for maximising the lifespan of your nappies in our comprehensive guide.
What are reusable nappies?
Reusable nappies are nappies that you wash after each use so your baby can wear them over and over again. The absorbent part of the nappy is made from natural fibres such as cotton or bamboo and they have either a built in or separate waterproof cover to prevent leaks.
The nappy soaks up your baby's wee and you should use a reusable or biodegradable liners to catch poo, which you simply remove from the liner and flush down the toilet.
Reusable nappies can save your family around £500 and they're much better for the environment, reducing your carbon output by up to 25%.
When to start using reusable nappies
If you've been wondering when to start using reusable nappies, you'll be pleased to know that you can use them from birth as most brands are suitable from 3.5kg to 4kg in weight.
Bambino Mio's starter bundles have everything your family needs to set off on your reusables journey. You'll be saving as many as 5,000 disposable nappies from landfill by going down the reusables route; even more if you use your nappy stash on future children.
Our bundles also have everything you need to look after your nappies as your baby grows, including nappy cleanser, laundry bags, a storage bucket and nappy liners.
How long will my reusable nappies last for?
Now you're ready to choose washable nappies, you'll probably want to know how long they'll last for before they need to be retired.
We've found that our nappies start to show some wear and tear after around 400 washes. So, if you were washing each nappy every day, that'd be 400 days before they started to become a bit less reliable.
However, you won't be washing each nappy every day - if you have 20 nappies, you'll be washing each nappy every other day, even during that heady newborn period of around 12 daily changes.
Your cloth nappies should last for three or four years
This means around 800 days at the newborn rate. However, as your baby grows and needs fewer changes, then you'll probably be washing each nappy every three days as you'll only be using six or so each day by your baby's first birthday.
According to our reckonings, by the time your baby is toilet trained (around age three), each nappy will have been washed 320 to 340 times. This is well within the wear and tear limit, making your nappy stash ready for a younger sibling or for the love of an entirely new family.
Maximising your nappies' lifespan
The best thing you can do to ensure your nappies have a long and happy life is to buy good quality ones in the first place. Natural cotton and bamboo are among the best materials for reusable nappies as they're durable and easy to clean.
The next best thing for long-lived nappies is to wash and dry them in the way they'd ask you to if only they could speak.
How to wash your reusable nappies
You don't need to boil wash your reusable nappies as modern washing machines can get your nappies clean at just 40C, which is less costly for you and for the planet.
Avoid chlorine-based bleaches and fabric conditioners as these damage the nappies and (in the case of softeners) reduce their absorbency. You can find out more about washing your nappies here.
Store your wet nappies in your nappy bucket until wash day, but try not to leave them in there for longer than two days to reduce the chance of damage from ammonia build up.
How to dry your reusable nappies
Line drying on a breezy day is the ideal, but an indoor drying rack or cool tumble dryer come second and third. Just make sure the nappies and their waterproof wraps aren't exposed to direct heat as it'll damage them - especially the wraps, with their elasticated cuffs.
It's important to make sure that your nappies and absorbent inserts are totally dry before you fold and store them so that there's no chance of mould developing.
FAQs about the lifespan of reusable nappies
How long should my reusable nappies last for?
With the right TLC, a 20-strong bundle of cloth nappies should last for four years, which is long enough for two children, with maybe a few replaced here and there (the nappies, that is...).
When should I replace my reusable nappies?
You'll probably find that you only need to replace one or two at any one time, rather than the whole stash at once. Look out for a nappy suddenly leaking, looking threadbare or developing rips. If you're using a two-piece system, you might have to replace the wraps before the nappies as the elastics can "go".
What do I do with worn-out reusable nappies?
You don't just retire old nappies, you recycle them! Give them one final wash and dry for old times' sake and then drop them into your local clothes recycling bank.
Citations and References
Department for Environment Food & Rural Affairs (DEFRA). 'Life Cycle Analysis of Nappies/Absorbent Hygiene Products 2021/23' 2023. Web. randd.defra.gov.uk/ProjectDetails?ProjectId=20622
---