Using Reusable Nappies With Twins
Share Options
Bambino Mio
09 / 11 / 2023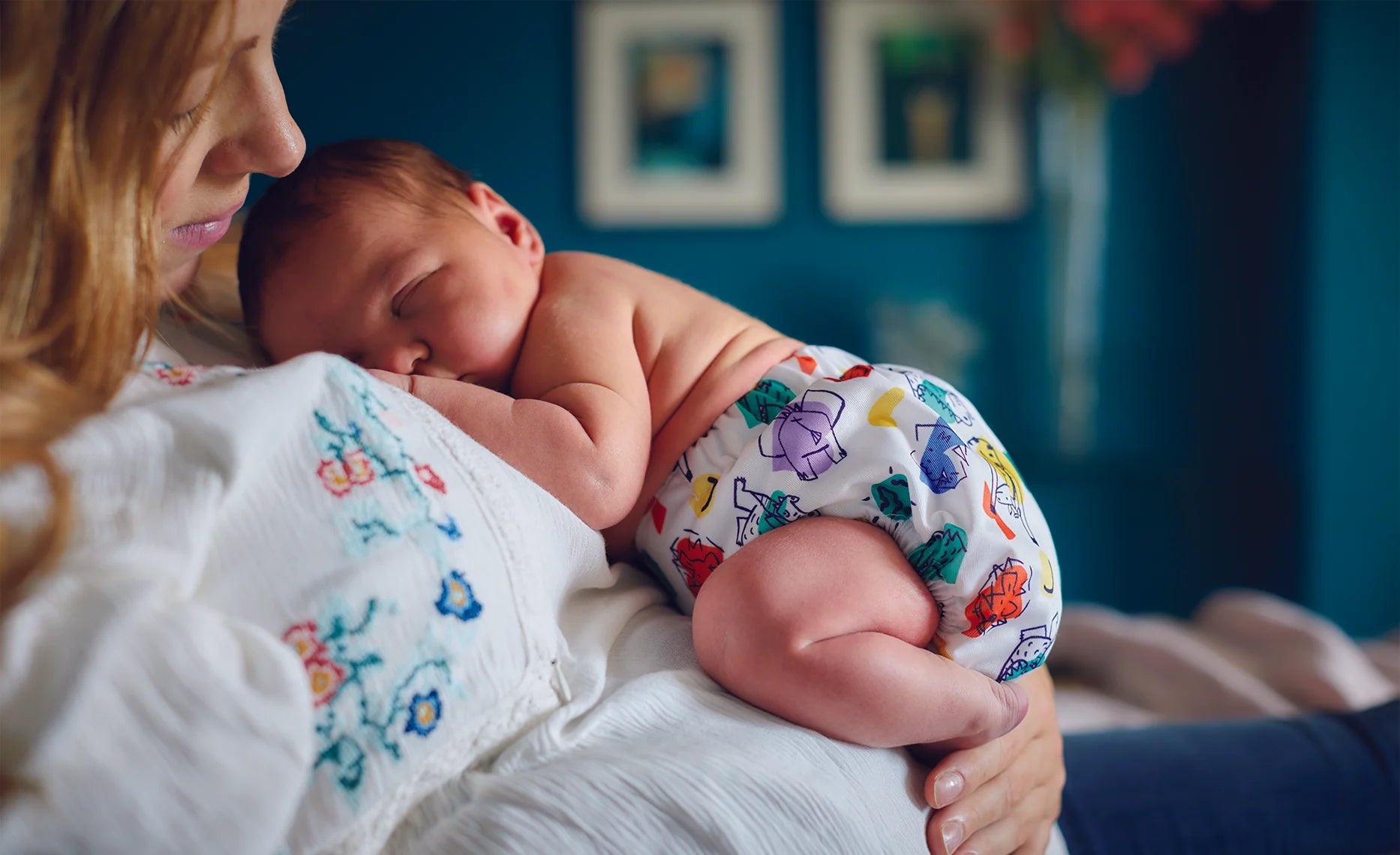 You've had the positive pregnancy test result and now you've had the scan (1) which revealed double trouble! 
You're having twins and while this is exciting and terrifying in equal measure, in between all the emotions you have some practical considerations to make. 
Where will they sleep? Will they sleep? Do we need a bigger car? Do we dress them the same? Will one of them be evil? The list goes on (and no, just in case you're worrying, neither of your twins will be evil…).
Can you use reusable nappies with twins?
One consideration which might be a bit further down the list is whether you can still use reusable nappies with your twins. When you think about this prospect, you'll probably imagine the washing machine going non stop and hanging ranks of cloth nappies drying on every available surface.
Yes, you can use reusable nappies with twins
While your washing machine will get some extra action as long as your twins are in reusable nappies, you'll probably only do three nappy loads a week after the first couple of months. 
Newborns poo and wee a lot and so at first you'll be changing each baby between 10 and 12 times a day, which adds up to around 24 nappies every 24 hours. Anything between 20 and 24 nappies is a full load, so you'll need to run your washing machine once a day.
Thankfully, as your babies grow, they'll go down to six to eight changes per day, which means you can wash every other day as long as you have a routine and a decent-sized stash of nappies.
How many reusable nappies will I need for twins?
We recommend that you have 20 to 25 nappies for one baby, so for twins you'll need 40 to 45 if you're to have clean and dry nappies available every day while the others wash and dry.
Don't forget about the liners!
As well as our reusable nappies, you'll need to use nappy liners as well. You can choose single-use liners or washable ones and reusable nappy liners can go in with "regular" washing loads unless they're heavily soiled, so there's not much extra to do.
Our handy pointers for using reusable nappies with twins
Over the years we've amassed all the reusable nappy experience and advice you could ever need and so here's our invaluable tips to help you on your reusables journey with your twins.
Make space for drying your reusable nappies
The drying phase of caring for your reusables is the longest phase and it also takes up the most space as you need to get lots of air to your nappies.
Find a dedicated drying space for your reusable nappy bundle so that you've always got somewhere for them to go once they're out of the washing machine. 
A washing line is the ideal drying solution, but an airing cupboard, airer or heated drying rail in a corner or downstairs bathroom will do nicely too. If you're using a heated rail, place towels or muslins underneath the nappies as direct contact with heat might damage the fabric of the nappies.
Add another space or two for drying your reusable nappies
There's nothing wrong with hanging some cloth nappies out on the washing line while a few others dry in a cool tumble dryer or on an airer next to a window. 
Use reusable nappies that are suitable from birth to potty
As you'll be using a lot of nappies and your babies might be different weights and sizes, it's best if your nappies can fit any weight, size and shape all the way up to potty training.
Our Revolutionary Reusables are the perfect BTP (birth to potty) nappies so there's no chance of filling your nappy bag with the wrong ones. Once your twins are potty trained, you can use your stash with any younger siblings.
Make sure there's enough room in your washing machine
It's tempting to put as many nappies as possible into your washing machine so you do fewer washes, but this usually means your nappies won't be washed and rinsed thoroughly.
Reusable nappies are quite bulky and so they'll absorb a lot of the water that goes into the machine drum, making it harder for them to get a good slosh around. Overfilling your washing machine makes this almost impossible, so you'll end up with improperly washed nappies which may smell and irritate your baby's skin, leading to nappy rash.
It's better to do two washes that leave your nappies thoroughly cleaned and rinsed than one wash that doesn't do the job properly.
Dry pail your dirty reusable nappies
One thought which might strike horror into your heart is the soaking of dirty nappies. Think of this no more! If you dry pail your nappies you'll make life much easier and much less smelly. 
Dry pailing involves storing your used nappies in a bucket or basket, without water, until it's wash time. Keeping your nappies dry (ish) prevents smells and helps to slow down the growth of bacteria and the build up of ammonia.
Use our amazing designs to tell your twins apart
If you have identical twins, then there may be times when even you can't tell them apart, so with at least 40 of our reusable nappies, you'll be able to use a different design with each nappy change.
Remind yourself that you're saving more than £1,000
When the going gets tough (and it will do every so often), just tell yourself that you don't have to go out every week and buy packs of single-use nappies.
With a reusable bundle, you'll save at least £500 per twin. The average single-use nappy costs 20p and as your child will get through around 5,000 before they're toilet trained, that adds up to around £1,000. Of course, there's the initial outlay on your reusables bundle, as well as the costs of washing and drying it, but you can still expect to save that £500 per child.
You'll also be saving up to 10,000 single-use nappies from landfill
Once you throw those single-use nappies in the bin, they're almost certainly going to end up in landfill, where they'll stay for a few hundred years (2). 
Citations and References
(1) National Health Service (NHS). 'Your Pregnancy Care: 12-week Scan.' 2020. Web. www.nhs.uk/pregnancy/your-pregnancy-care/12-week-scan
(2) Guardian. 'Plastic Can Take Hundreds of Years to Break Down – and We Keep Making More.' 2022. Web. www.theguardian.com/commentisfree/2022/aug/08/plastics-climate-crisis-environment-pollution-kim-heacox
---