How to Dry Reusable Nappies in Winter
Share Options
Bambino Mio
30 / 10 / 2023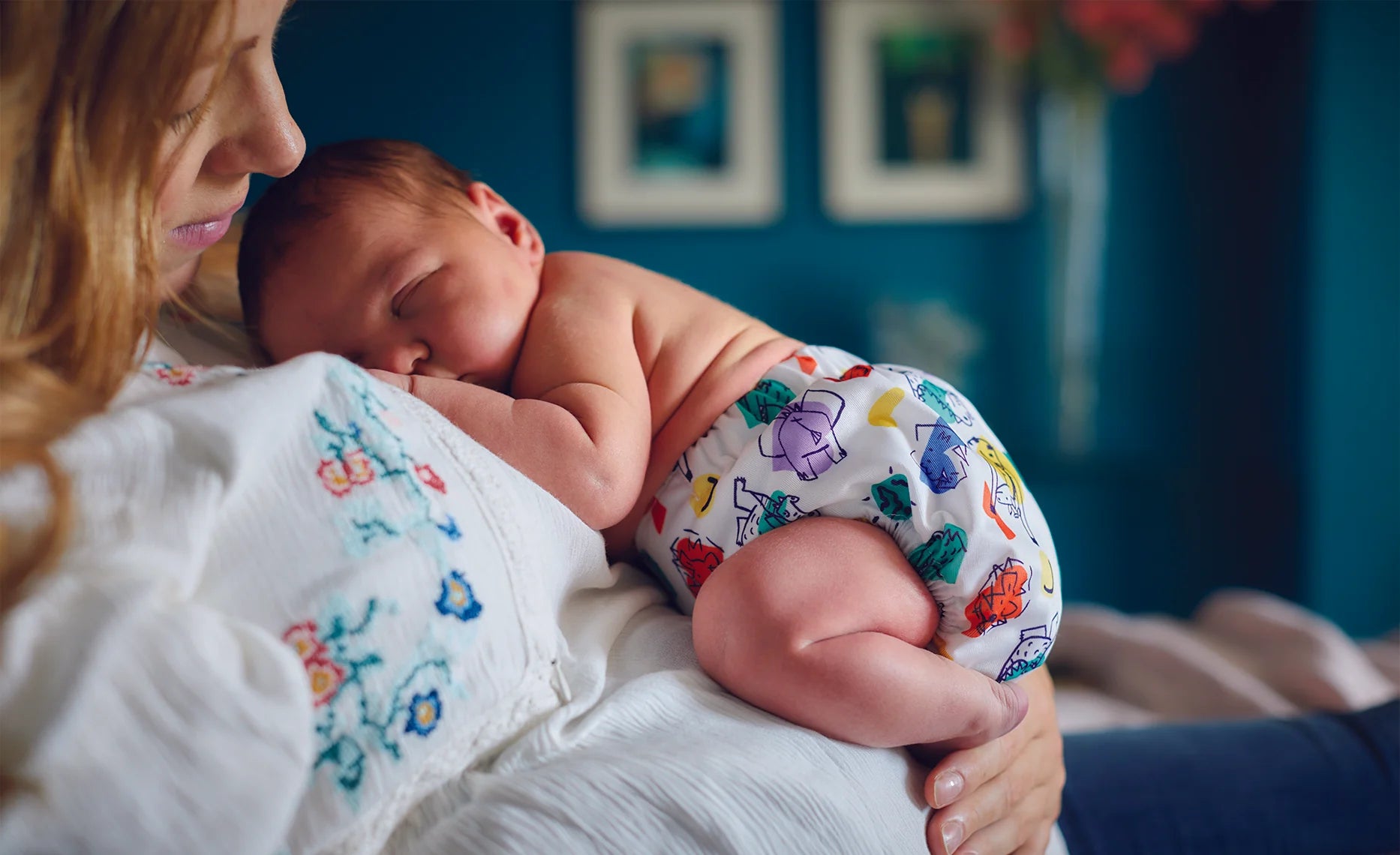 If you've decided to go down the reusables route with your baby, you probably imagine lines of fluffy white nappies floating and drying happily in the sun along your washing line. 
It is an appealing image, but have you wondered how you'll dry your reusable nappies during the winter months when days are shorter, colder and wetter. 
It's still easy to dry your reusable nappies during the winter
You might worry that you won't be able to dry your cloth nappies well over winter, but the good news is that with a bit of forward planning and an eye on the weather forecast, it's very doable.
Here's how to keep your baby's bum in the cloth it's accustomed to until spring has sprung.
Take advantage of sunny days
To dry clothes, you need at least two of these three things - dry air, warmth and airflow. In winter, there might not be many days which qualify for all three, but you'll almost certainly get some days which will provide you with dry air and a bit of a breeze. 
Throw in some daylight and even a few minutes of sunshine and your nappies will dry outside. It won't be as quick a process as it would be in spring and summer, but they'll still dry. Just make sure you keep an eye on any dark clouds and be ready to bring your nappies in if it looks like rain.
Use a cool tumble dryer
A cool tumble dryer won't use too much energy and it won't damage your nappies like a higher setting might. On some days, you might need your nappies in a hurry, or it's been raining for a couple of days so you can't line dry, or your line-dried nappies aren't quite 100%, well, dry.
Go retro with a pulley airer
Pulley airers are making a comeback and you'll want to carry on using yours long after your baby is potty trained! These airers work so well because they can accommodate a lot of washing and you can pull them up out of the way.
If you have a range oven or a log burner, then a pulley airer is an ideal solution for drying washing on wet days - they can also look stunning.
Go modern with a heated airer
The must-have gadget of the last couple of years, heated airers emit gentle heat along their bars and don't cost too much - most 200W models cost around 6p an hour to run and they also warm up the room they're in.
If you're planning to dry reusable nappies on your heated airer, however, it's best to place them over dry towels to avoid direct contact between the bars and the fabric of the nappy as this might damage it over time.
Invest in a dehumidifier
If you have a spare room or downstairs bathroom you can turn it into a drying space with a dehumidifier as this device removes water from the air, which essentially "pulls" more water out of your cloth nappies.
A dehumidifier also releases a small amount of heat into the room it's in as it works, which can help to take the chill out of the air and also reduce the chance of mould and damp developing in your home.
Set up a traditional airer next to an open window
Airflow is vital if you're drying reusable nappies as it "snatches" water vapour away as it rises from drying clothes. If you have an empty corner or seldom-used room with a nearby window you can open it slightly to get some air movement going on. 
A large bathroom or a landing is ideal for this, as is an enclosed porch or utility room, as long as you can lock the window in its slightly open position.
Hang a drying rail from a radiator
Direct heat can damage reusable nappies, so a rail which lets you hang nappies on it so they're a few centimetres away from the radiator is best. If that radiator is underneath a window, that's even better as you have the warmth, airflow and dry air triumvirate preparing your nappies for more fun and games.
---