How to Use Nappy Creams with Reusable Nappies
Share Options
Bambino Mio
06 / 11 / 2023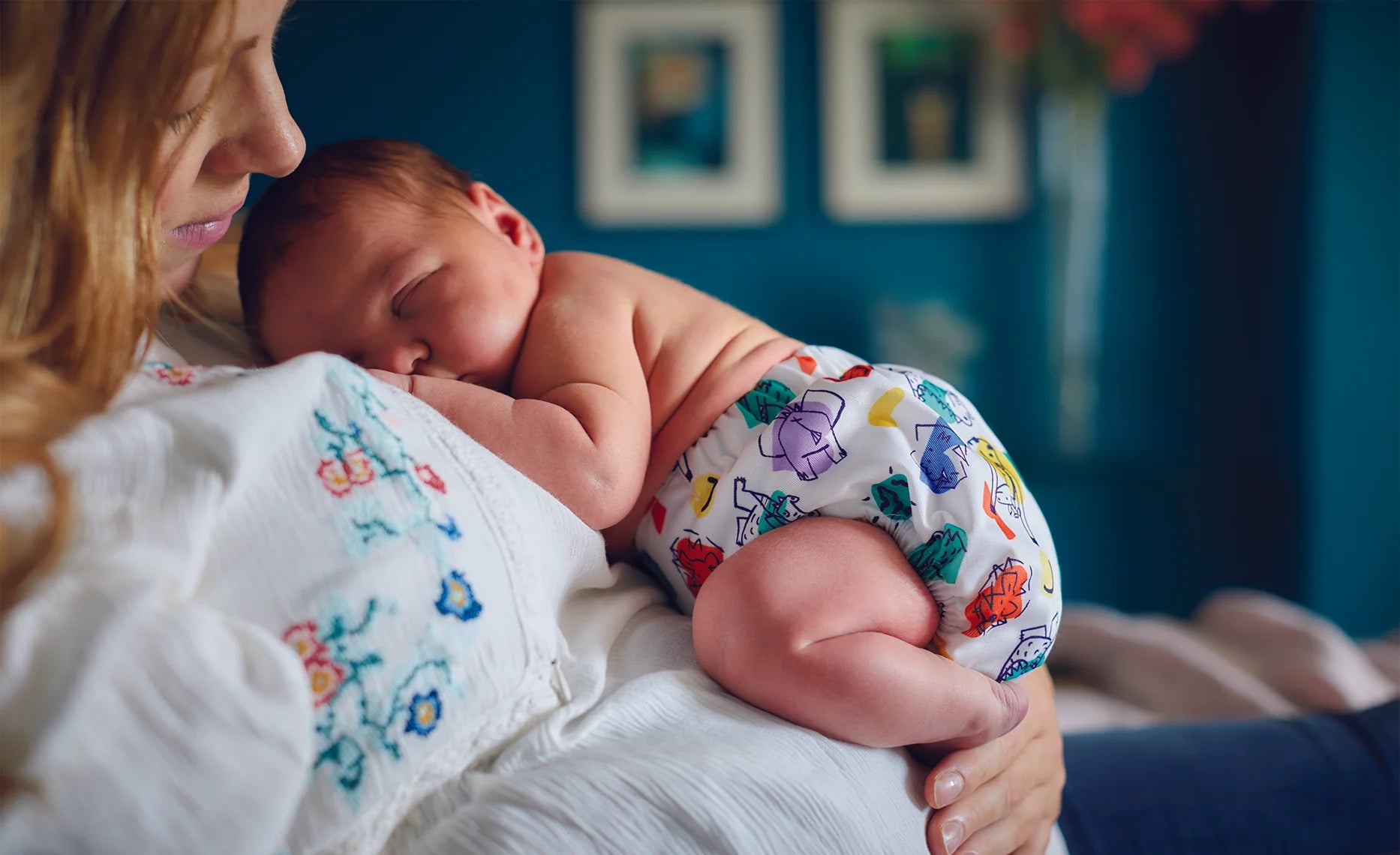 Using a nappy cream with your reusable nappies might not have been something you considered when you first decided to go down the washable nappy route. It's not something many of us think about when we first start changing nappies, but at some point you'll need to use a barrier cream to reduce the risk of nappy rash (1).
Can you use nappy creams with reusable nappies?
You might also have heard that nappy creams aren't recommended with reusable nappies because they can form a waterproof barrier on the nappy fabric as well as your baby's bum.
The good news is that there are some nappy creams suitable for use with washable nappies, so you just have to look out for them and, when you have them, use them sparingly.
Which nappy creams can you use with cloth nappies?
A nappy cream made with all (or at least mostly) natural ingredients is easier to wash out of your fabric nappies and is also less likely to create a waterproof "seal" on them. 
Look out for creams which use coconut oil, shea butter and/or aloe vera as their bases, as these oils will wash out easily at 40C. They're also very unlikely in themselves to cause a rash on your baby's bottom (they also make great moisturisers for tired parents…).
I can't find one of these creams at the moment - what should I do?
It's not the end of the world if you do use a heavier nappy cream on your baby's bum - after all, it's more important to keep them comfortable. If you have to use a heavier cream, use as little of it as you can and leave your baby's nappy off for longer than usual so the cream has more chance to be absorbed into their skin.
The other thing you can do to prevent your nappy cream forming a waterproof seal on your nappies is to use a nappy liner to protect the nappy from the cream.
Your liners can stand up to a 60C wash much more than your nappies, so use one to remove any deposits, or if you're using single-use liners, you can just throw them away.
Does my baby need nappy cream with every change?
Not necessarily. If you're changing your baby's nappies frequently enough - once every two hours during the day - then you might only need to use a nappy cream for their nighttime change. Do use a nappy cream if you notice the start of nappy rash, though.
There might be other times when you need to use a nappy cream more often, for example if your baby's a bit unwell and has looser or more frequent poos. 
My baby's nappy rash isn't clearing up - what should I do?
If you've increased the frequency of nappy changes, added an extra-extra rinse to your washing cycle, used the right nappy cream and offered your baby nappy-free time but the rash persists, you should see your GP or health visitor.
It may be that your baby has a food allergy (2) that's causing their nappy area irritation, as the allergenic compounds will still be present in their poo. 
Alternatively, your baby might be allergic to your laundry detergent or they might have a fungal infection like thrush (3), so it's best to get them checked over by your doctor if you can't clear up their rash.
Citations and References
(1) National Health Service (NHS). 'Caring for a Newborn Baby. Nappy Rash.' 2023. Web. www.nhs.uk/conditions/baby/caring-for-a-newborn/nappy-rash
(2) National Health Service (NHS). 'Food Allergies in Babies and Young Children.' 2021. Web. www.nhs.uk/conditions/baby/weaning-and-feeding/food-allergies-in-babies-and-young-children
(3) National Health Service (NHS). 'Caring for a Newborn Baby. Nappy Rash.' 2023. Web. www.nhs.uk/conditions/baby/caring-for-a-newborn/nappy-rash
---