How to Treat Nappy Rash at Home if You're Using Reusable Nappies
Share Options
Bambino Mio
09 / 11 / 2023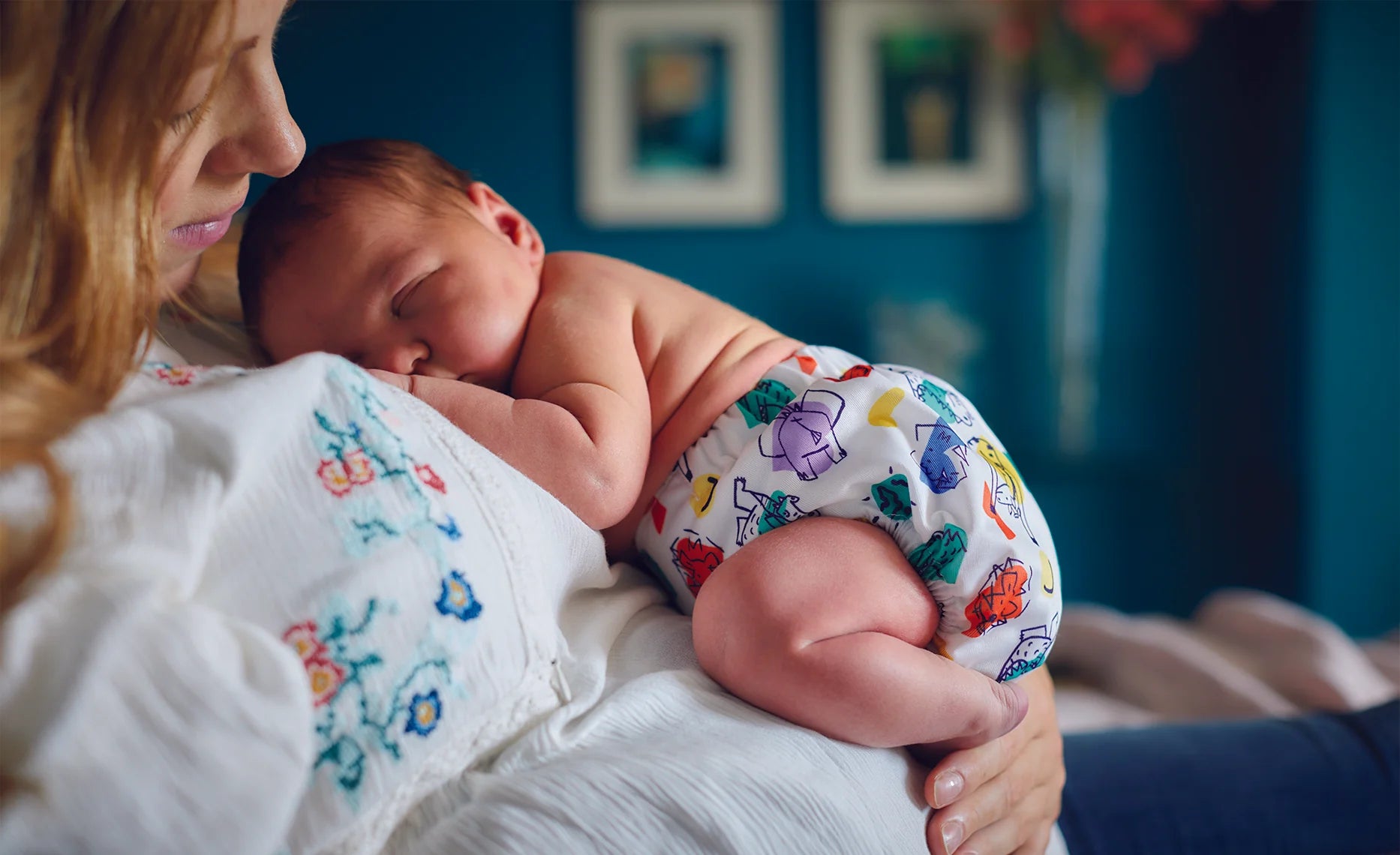 Although reusable nappies are no more likely to cause nappy rash (1) than disposables and some parents say they're less likely to cause skin problems, your baby may well develop it at some point.
Thankfully, most cases of nappy rash in babies are mild and you can treat the condition easily at home. If you're using reusable nappies rather than single-use there are a few things you'll have to do differently, but using washable nappies won't make treating nappy rash harder for you or your baby.
Here's how you treat your cloth-bummed baby's nappy rash at home.
Change your baby's nappy frequently
You should change your reusable nappies every two hours throughout the day anyway, but when nappy rash strikes, try to increase this frequency. If you spot your baby doing a wee, for example, change their nappy as soon as possible afterwards and give them some extra nappy-free time.
Use a booster pad for extra wicking power
The booster pad isn't there to soak up more wee in this case, but to wick it into the absorbent layers of the nappy underneath. This provides your baby's skin with a bit of extra protection against the moisture that can cause and worsen nappy rash.
Make sure your baby's reusable nappies fit them properly
If your baby's cloth nappies are too tight, they can rub up against your baby's skin and trap moisture against it. If they're too loose they can't absorb the wee quickly or effectively enough and your baby will have little pools of wee against their skin for a few minutes.
Our Revolutionary Reusables are designed for use from birth to potty, so you can always adjust them to fit your baby perfectly.
Always wipe from front to back
This is especially important with girls, as you don't want to introduce bacteria into their vulva and vagina. 
Use reusable cloth wipes and plain water to clean your baby's bottom
Shop-bought single-use baby wipes, even the ones which promise to be gentle, contain additives and some brands contain detergents and fragrances which can make your baby's nappy rash worse.
Don't rub or pat your baby's skin if it's broken
If your baby has broken skin or you notice blisters or peeling, then don't use any sort of wipe. Instead, you could drip or squeeze water onto their nappy area with a flannel or gently squirt warm plain water from a squeezy bottle. Take your time to make sure everything's clean.
Let your baby's bum air dry
If you can, let your baby's bum dry naturally, without using a towel or cloth. If you have to dry it, gently pat it with a clean, soft cloth.
Use a reusable nappy-friendly nappy cream
A coconut oil-based or shea butter based nappy cream is best for use with washable nappies as heavier creams or ointments can form a waterproof barrier on the nappies themselves. 
You only need a tiny amount of nappy cream and if possible, leave it to absorb before putting on a new nappy.
Use a liner with your reusable nappies
If you're using a nappy cream, you can use a nappy liner to protect the nappy from the cream. You can wash most reusable nappy liners at 60C if they get clogged with ointment, or you can use disposable liners instead.
Give your baby lots of nappy-off time
A bit of nappy-free time is a great way to heal nappy rash and to give your baby some relief from the discomfort of wearing a nappy when they have an uncomfortable rash.
For small babies who can't sit up or stand yet, a spell on a changing mat or thick towel will do the trick - just be ready to mop up!
For older babies and walkers, let them potter around on a washable floor or in the garden for a while.
Try to bathe your baby just once a day
A bath can be a good way to clean a pooey bum without rubbing with a cloth, but you should try to keep it to once a day, as any more might dry out your baby's skin. 
Plain water is best, so no bubbles, soaps, oils or lotions for now.
Let other caregivers know your baby has nappy rash
If your baby goes to nursery or to another childcare setting you should let them know they have nappy rash so they can do extra checks and changes, as well as apply any nappy cream you're using.
Your baby's nappy rash should clear up within three days or so

Most cases of nappy rash are cleared up - or at least hugely improved - after three days or so. If your baby doesn't seem to be getting better, or if the rash seems to be getting worse, you should call your GP for help and advice.
Even mild nappy rash needs treatment as, if left, it can get worse or your baby may develop a fungal or bacterial skin infection.
Citations and References
(1) National Health Service (NHS). 'Caring for a Newborn Baby. Nappy Rash.' 2023. Web. www.nhs.uk/conditions/baby/caring-for-a-newborn/nappy-rash
---