Pro Tips for Using Reusable Nappies
Share Options
Bambino Mio
30 / 10 / 2023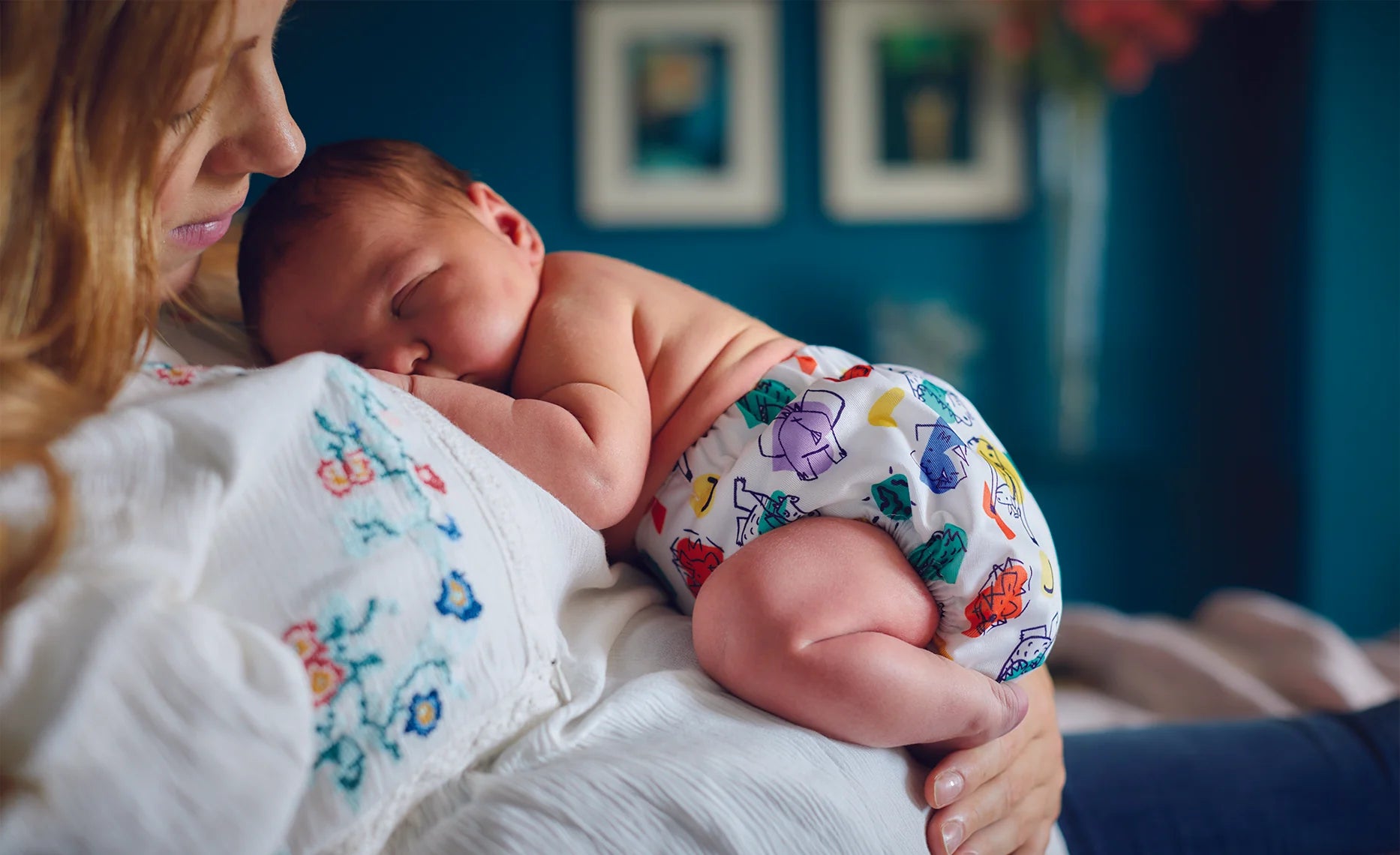 When it comes to looking for advice and tips on using reusable nappies, there's no better go-to people than parents who've been there, done that.
The people on the ground (or at the changing table) are the ones who have encountered most, if not all, of the potential cloth nappy scenarios - the good, the bad and the poonami…
Learn from the best - invaluable reusable nappy tips from parents
We gathered tips and tricks from reusables fans to help you to prepare for your cloth nappy journey and to stay on course all the way through to potty training. 
Don't worry if your reusable nappies don't seem very absorbent at first
It can take six or seven washes for the fabric of your nappies to reach their full absorbency. Washing helps to fluff up and separate the fibres, allowing them to hold more liquid as time goes on.
It's important to avoid fabric conditioners when you're washing your reusable nappies, as this coats the fibres, reducing their absorbency.
Get into a washing and drying routine as soon as possible
Creating routines really helps you to get through the first few months with a baby. From feeding to naps, everything's better with a routine and this includes washing and drying your reusable nappies.
If you have a bundle of 20-25 nappies, as well as reusable wipes and liners, a washing and drying routine means you've always got 12 or so nappies clean and dry each day. With a newborn you might need to do a wash every day, but once your baby's a bit older you can stretch to every other day. 
Dry pail your nappies to avoid smells and ammonia build up
Dry pailing your nappies sounds complicated and even slightly scary, but all it means is you store your used nappies in a dry bucket or bag until it's wash time. 
Ideally, you should use a metal or silicone basket with holes or mesh to encourage airflow throughout the nappies. You might think this would create smells, but dry pailing is actually less messy and smelly than the old-fashioned method of soaking nappies in a bucket before washing.
Girls and boys need different booster arrangements
If you're using boosters with your reusable nappies, you should "double up" at the front for boys and in the middle for girls so that the booster catches the wee pretty much at the source.
Wash your reusable wipes and liners in a mesh bag
This isn't essential, but it can save you from rooting around in the washing machine drum or among baby clothes when you've had two hours sleep! Every little helps in those early days.
Sunlight is the best bleach
Our laundry booster will help to keep your nappies white, but sunlight is the best no-effort, no chemical way to bring your bundle up a shade or two. There's also nothing better than a stash of garden-fresh nappies in your arms…
Avoid the use of toilet rim blocks and gels
If you regularly use the toilet flush to rinse poo off your reusable nappies and liners, then don't use toilet rim blocks or gels as the cleansing agents in them might damage your nappy fabric. In addition to this, these compounds might build up in your nappy and irritate your baby's skin, causing nappy rash (1). 
Don't use bleach, sodium bicarbonate or vinegar on your nappies
Older relatives might advise you to use these chemicals on your nappies. While they worked well on terry cloth nappies, they can damage modern reusable nappies over time. 
Remove poo from Velcro ASAP
This last tip is gross but you'll thank us later. If you find there's poo on the Velcro tabs of a reusable nappy, remove it before it sets like stone. Don't ask us how we know, just make sure you have an old toothbrush or nail brush handy…
Citations and References
(1) National Health Service (NHS). 'Health A to Z. Nappy Rash.' 2023. Web. www.nhs.uk/conditions/baby/caring-for-a-newborn/nappy-rash
---