Use Reusable Nappies to Help You Through the Cost of Living Crisis
Share Options
Bambino Mio
04 / 09 / 2023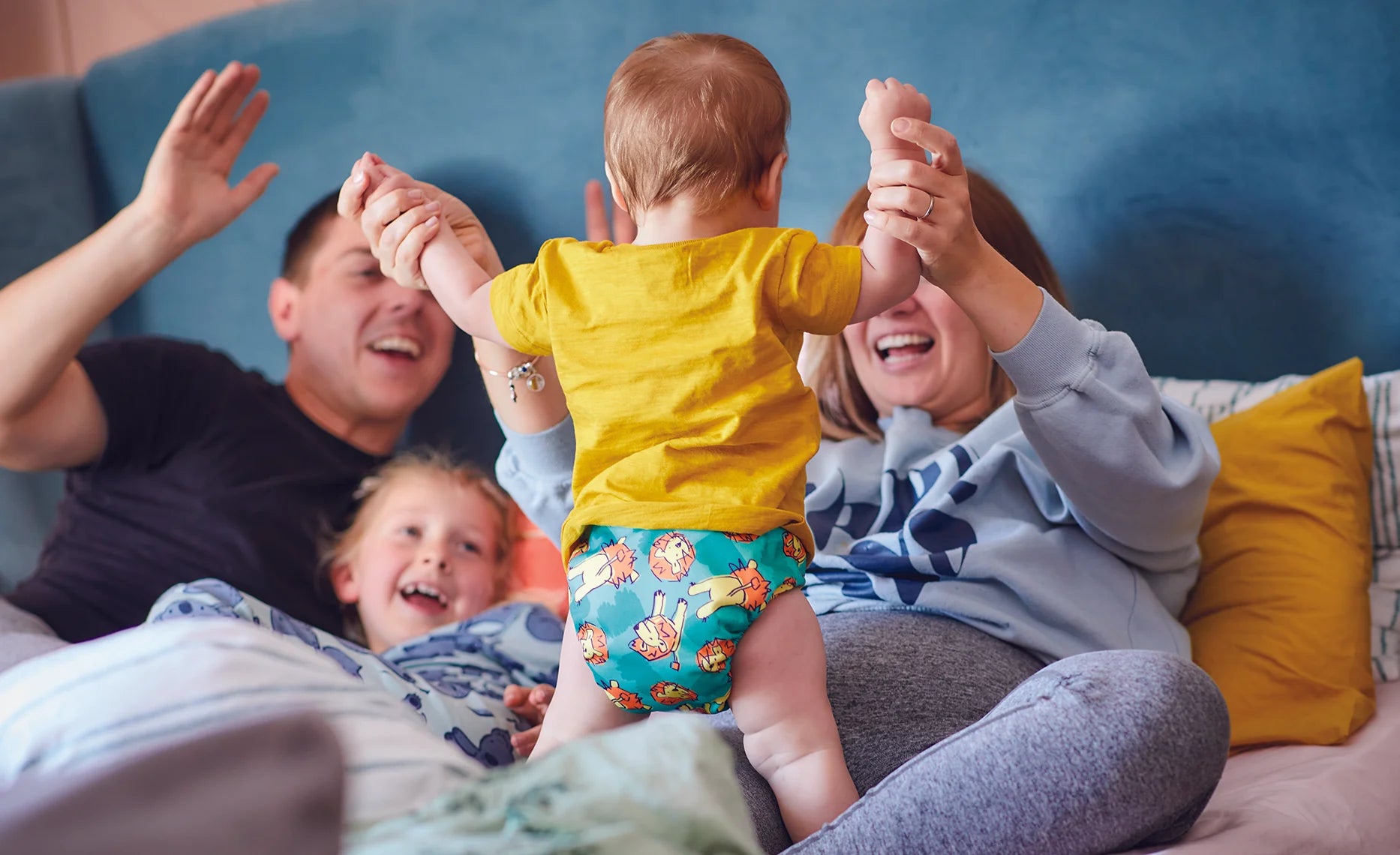 The UK's cost of living crisis has hit parents particularly hard (1), with the prices of children's clothing and footwear rocketing up by as much as 20%, as well as increases in food prices.
Staple groceries are up to one-fifth pricier on average
According to an ONS price comparison tool (2), some basic grocery items such as wholemeal bread and full-fat milk now cost 18% more than they did in June 2022. Cheddar cheese, a staple in many households, is almost a third more expensive with a rise of 29%, from an average of £7.35 per kilo to £9.47 per kilo.
Single-use nappies have also become very expensive in the UK
Although they don't feature in the ONS comparison tool, disposable nappies have become much more expensive, with some leading nappy brands rising in price by 30% since the start of 2023 (3).
Reusable nappies could save UK families £500 or more per child
Bambino Mio's own research has found that the average family in the UK could be spending up to £1,200 per child, on single-use nappies. On average, a child gets through at least 5,000 single-use disposable nappies from birth to potty training and with the average nappy costing up to 25 pence each, that's a lot of cash ending up in landfill.
By switching to washable nappies, such as Bambino Mio's Revolutionary Reusable nappies, families will save at least £500 over their child's nappy-wearing years and yes, that takes into account the washing costs.
The great thing about reusable cloth nappies is that they don't turn into pumpkins as soon as your child masters the toilet - you can pass your pre-loved nappies onto their little brother or sister, or to a friend.
Using your reusable nappy bundle on a sibling saves you even more
Bambino Mio's reusable nappies can handle up to 400 washes before you start to see some wear and tear. With our all-singing, all dancing Changemaker Bundle, you'll get 20 high-performance nappies which, when passed on to a sibling, can save families more than £1,000!
You might find that you pick up a few extra nappies along the way to replace particularly worn members of the stash, but your bundle will be going strong for at least one little brother or sister.
 The £500 in nappy savings also includes all those washes!
 As well as working out how much UK families spend on single-use nappies, the Bambino Mio brains worked out how much it costs to wash and dry your batch of nappies until your baby completes potty training. They found that those laundry loads cost a grand total of £175 over the 2.5 years of nappy wearing.
Even better, if you have an energy efficient washing machine, wash at 40C and line dry your reusable nappies as often as possible, you could drive those costs down even further (despite the rises in energy costs) and reduce your carbon footprint while you're at it!
Worried about the upfront cost of a nappy bundle?
We've thought of everything! Our bundles save you money vs buying singularly and the great news is you can also spread the cost of your nappy bundle over 12 months, so you'll be all stashed up when the time comes to use them.
Citations and References
(1) Office for National Statistics (ONS). 'Parents More Likely to Report Increases in Their Cost of Living.' 2022. Web. www.ons.gov.uk/peoplepopulationandcommunity/personalandhouseholdfinances/expenditure/articles/parentsmorelikelytoreportincreasesintheircostofliving/2022-09-07
(2) Office for National Statistics (ONS). 'Exploring How the Average Price of Individual Items Has Changed in the Last Year.' 2023. Web. www.ons.gov.uk/economy/inflationandpriceindices/articles/exploringhowtheaveragepriceofindividualitemshaschangedinthelastyear/2023-05-03
(3) The Grocer. 'Pampers Nappies Up 30% at the Mults Since Start of Year.' 2023. Web. www.thegrocer.co.uk/healthcare-beauty-and-baby/pampers-nappies-up-30-at-the-mults-since-start-of-year
---