Nine Sensory Activities to Try at Home With Your Baby
Share Options
Bambino Mio
16 / 10 / 2023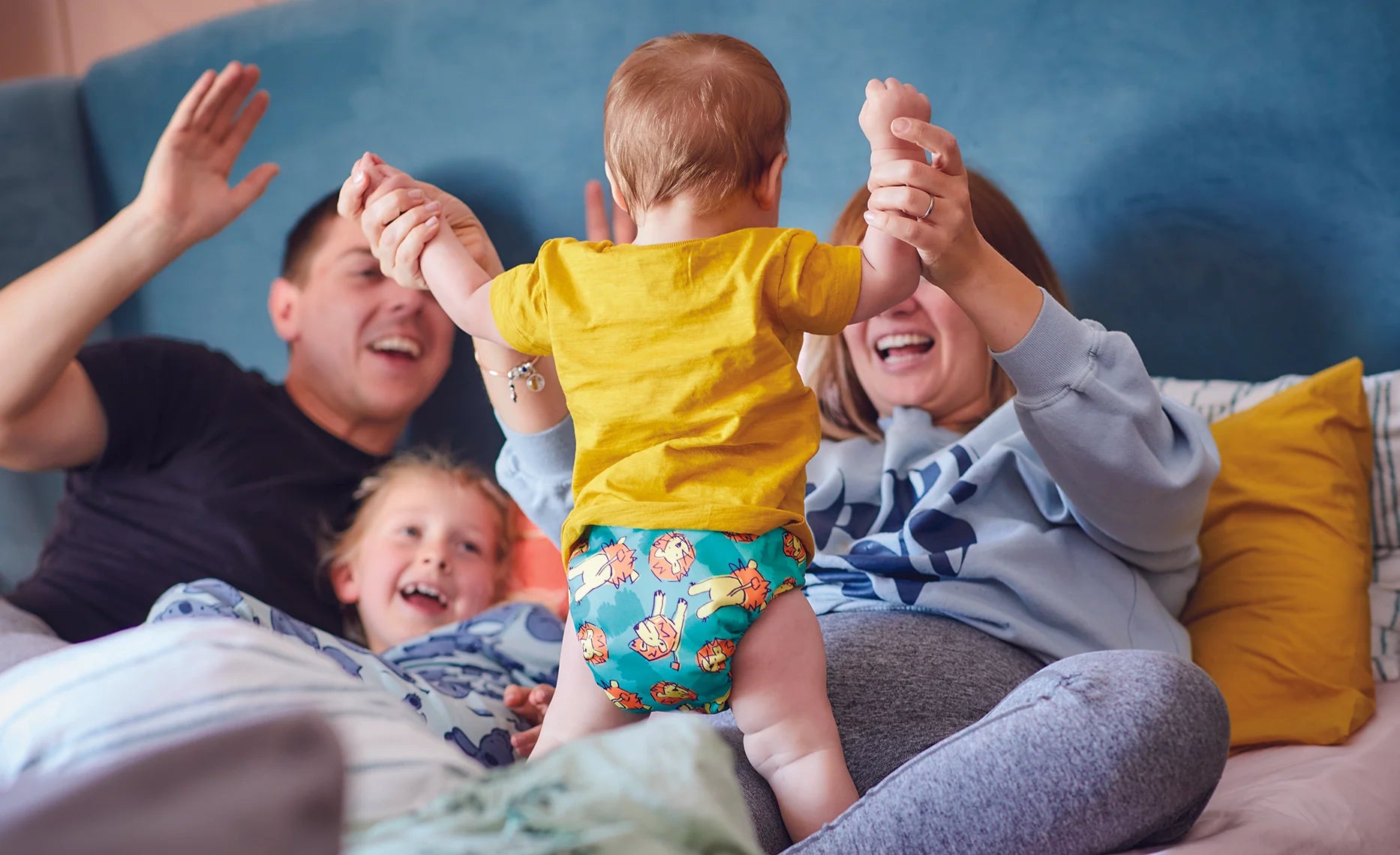 Inside this Article:
Sensory play is essential for your baby's development (1). Sensory activities help your baby to, quite literally, make sense of everything they can touch, feel, hear, see and smell so that they can navigate the world as they grow.
It's not just about the five "main" senses, as some forms of sensory play, such as jumping, spinning and sliding, improve your child's balance, coordination and proprioception (2).
What's more, sensory play is also great fun and engaging in these activities gives you and your child a good chance to bond and cooperate. Here's nine ideas for sensory activities for you and your child to share.
Squelch some squishy jelly
You'll need a playmat for this one! Pop your older baby (post-weaning age) in their high chair and help some jelly, preferably of different colours, and let them have at it! If there's one thing babies love, it's squidging their little hands into something messy. 
Get in the bath!
All that jelly is guaranteed to end up everywhere - and not just on the floor. Bathtime is a great time for sensory play because the warmth of the water, the slipperiness of the soap and the fluff of the bubbles all combine to make a sensory feast. Plus, you'll wash off all of that jelly…
Make some sensory bottles
These DIY rattles will show your baby how different substances make different noises, move differently and weigh more or less than others. Fill clean, dry water bottles with lentils, beads, small pebbles, glitter (if you're feeling brave) and pasta, secure the tops and get shaking!
Forever blowing bubbles
Which baby doesn't love bubbles? Blow some bubbles and watch your baby's face light up as they see them shimmering through the air until they pop. Older babies and toddlers love to chase and pop bubbles as well, which is great exercise.
Post some pom poms
Older babies, from around nine months or so, love to "post" objects. Sometimes, it's your car keys down a drain and sometimes it's bright, fluffy pom poms into a toilet roll tube. You can also get your baby to move the pom poms around muffin tins, but do make sure they don't try to eat them.
Enjoy some tummy time
Tummy time is important for your baby's muscle development, so your baby should spend a few minutes each day on their tummy, learning to wriggle, push up, hold their head up and start to crawl. Add in a bit of singing and gentle massage and it's a winner.
Paint with trucks and cars
We're talking about toy cars, btw… Use either a large washable playmat or some big sheets of construction paper, some washable paint and some old toy trucks and cars to create a messy masterpiece. Dip the wheels into the paint and get rolling! You might just need another bath after this…
Bung your baby into a box
In the nicest possible way, of course! Big boxes and babies go together, so if you've had a delivery, empty the box, hand your older baby or toddler some crayons or some favourite toys and let them crack on. Don't leave them unattended, though, as they'll want to come out at some point.
Scrunch up some paper
It may well be the paper you just took out of the box and you can guarantee that your baby will love it more than whatever it was protecting! Teach your baby how to scrunch, tear and even wrap themselves up. Do watch your baby closely, however, as they'll probably try to eat at least one sheet.
Citations and References
(1) Cleveland Clinic. 'What is Sensory Play? The Benefits for Your Child and Sensory Play Ideas.' 2022. Web. health.clevelandclinic.org/benefits-of-sensory-play-ideas
(2) WebMD. 'What is Proprioception?' 2021. Web. www.webmd.com/brain/what-is-proprioception
---