The Best Places to Purchase Reusable Nappies
Share Options
Bambino Mio
09 / 05 / 2023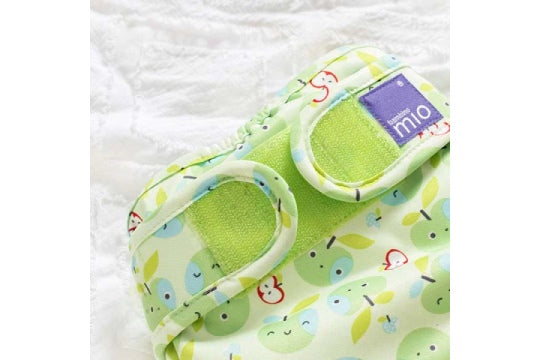 Discover where to buy reusable nappies, find out when to start using them, and explore the benefits of eco-friendly nappy options for your baby and the environment.
An introduction to reusable nappies
What are reusable nappies?
Reusable nappies are nappies that your baby can wear and wear again because you wash and dry them in between uses. Modern washable nappies are usually made of natural fibres such as cotton and bamboo and are much better for the environment than disposable nappies.
Washable nappies are better for your baby and the environment
By choosing reusable nappies you're reducing your carbon footprint by up to 25% compared to using disposables and the natural fibres used to make cloth nappies are kinder to your baby's skin. You can also save around £500 during the nappy years because you're using  and washing the same set.
When can you start to use reusable nappies?
You can use washable nappies from birth as most brands are suitable for babies weighing around 4kg and are designed to grow to toddlerhood alongside them. If your baby is 3kg or thereabouts you can use extra inserts to help with the fit until they catch up to 4kg.
The benefits of reusable nappies
The environmental benefits of washable nappies
Reusable nappies can reduce your CO2 output by up to 25% compared to using disposable nappies. In addition to this, one set of cloth nappies uses just 2.5% of the raw materials needed to produce the 5,000 or so disposable nappies your child would need up until they were toilet trained.
The cost benefits of using cloth nappies
Those 5,000 disposable nappies, with the average price of a single branded nappy being 20p (December 2022), add up to around £1,000 by the time your child is toilet trained. Bambino Mio's Miosolo starter bundle will cost £284.99 and you'll spend about £175 on laundry - the numbers work out!
The benefits to your baby
Disposable nappies use absorbent gels to keep your baby feeling dry and these gels can irritate their delicate skin. That "dry feel" also means your baby's skin is in contact with urine for longer than it would be if they were in reusable nappies, which can lead to nappy rash.
The different types of reusable nappy
There are a few different types of reusable nappy to choose from, so here's a quick guide for you.
| | The What | The Good | The Not So Good |
| --- | --- | --- | --- |
| Fitted Reusable Nappy | Use an inner nappy and a separate waterproof cover. The entire nappy is absorbent and you can use extra inserts. | These nappies are a good choice for night times or for heavy wetters. | Fitted reusables are bulkier than many other cloth nappies. |
| Prefold Reusable Nappy | Consist of a highly absorbent fabric square that you can fold in several ways to suit your baby then cover with a waterproof wrap. | These nappies dry very quickly as the fabric folds out and you can also arrange it so it fits your baby perfectly. | Prefolded nappies can take some getting used to and you might have to try lots of different folds before you find the best one. |
| Pocket Reusable Nappy | These nappies have an outer waterproof wrap and an inner section with a large pocket for absorbent inserts. | Pocket nappies have a quick drying time as you remove the absorbent inserts with each wash. | While you can add extra inserts for heavy wetters, this might change the fit of the nappy which can lead to leaks. |
| All-in-one Reusable Nappies | These nappies' absorbent cores are stitched to their waterproof outer wraps. | All-in-ones are one-size nappies and are easy to wash and use as there's no separate wrap. | If you wash these nappies in hot water or use harsh detergents you can degrade the outer wrap, shortening the nappies' lifespan. |
Where can you buy reusable nappies in the UK?
Although reusable nappies are becoming more popular in the UK, you might not see them on the shelves of your local shops just yet. They are pretty easy to get hold of, however.
Online
Lots of parents buy their reusable nappy sets online as they can research and decide which type they prefer and then simply click "Buy". Online retailers often have discounts, too.
High street shops
Some larger branches of high street shops will stock reusable nappies, both as sets and as individual nappies. You can also find items like reusable liners and wipes in stores.
Local baby boutiques
Independent baby shops often stock reusable nappies, so if you prefer to buy from independents rather than high store chains, a local retailer might have what you need.
How to choose the right washable nappy
It can seem bewildering when you look at all the different sorts of reusable nappies on the market, but there's only a few things you need to consider.
Your baby's age and size
If your baby is "average" size and weight then most types of washable nappy will fit well pretty much from birth. If your baby is on the small size or has little legs, you might need to use extra inserts for a while. 
Your lifestyle and preferences
If you're always on the go you might prefer all-in-ones so you have less to carry and handle. If you need a rapid wash and dry turnaround then two-part nappies might be better as you can separate the outer wrap and nappy.
Read some reviews 
Reading reviews from parents already using cloth nappies is a great way to narrow down your choices, as well as to glean some useful tips and tricks.
Care and maintenance of your washable nappies
How to wash your cloth nappies
Modern washing machines can clean your reusable nappies at just 40C. Washing with hot water is expensive and increases your carbon emissions, so leave that temperature dial alone. You shouldn't use chlorine bleaches or fabric conditioners, either, as they damage the fabric of your nappies.
Drying your reusable nappies
Line drying your nappies is your best and cheapest option but you can also use an airing cupboard or a drying rack, as long as it's away from direct heat, which can damage your waterproof wrap.
Storing your cloth nappies
You can stack your reusable nappies next to your changing table and also in your baby's changing bag. A great tip is to place an insert and a reusable liner in the nappy so you're always good to go.
FAQs
How many reusable nappies do I need?
We recommend that you start with at least 16 cloth nappies so you always have some clean, dry and ready for action while their colleagues are in the wash.
When should I start using cloth nappies?
Whenever you're ready! You can use them from birth as long as your baby's not too small for them to fit snugly, which is usually under 3.5kg.
Will reusable nappies irritate my baby's skin?
As long as you wash, rinse and dry your cloth nappies thoroughly there's no reason why they should cause nappy rash or any other skin irritation.
How long will my set of reusable nappies last for?
With careful laundering and gentle drying, your cloth nappies should last you for several years, so you can use them any future children.
Can I use reusables as night time nappies?
Yes you can. Some babies might need an extra booster pad to help them to stay comfortable overnight, but nappies like Bambino Mio's Mioduo are ideal for overnight use.
How much do reusable nappies cost?
Individual cloth nappies cost around £8 each and many parents decide to buy a starter set, which features 16 nappies and all the accessories you'll need, for £284.99.


Citations and References

(1) Department for Environment Food & Rural Affairs (DEFRA). 'Life Cycle Analysis of Nappies/Absorbent Hygiene Products 2021/23' 2023. Web. randd.defra.gov.uk/ProjectDetails?ProjectId=20622
(2) Department for Environment Food & Rural Affairs (DEFRA). 'Life Cycle Analysis of Nappies/Absorbent Hygiene Products 2021/23' 2023. Web. randd.defra.gov.uk/ProjectDetails?ProjectId=20622
---