Prepping your change station
Share Options
Bambino Mio

Parent Life

21 / 06 / 2023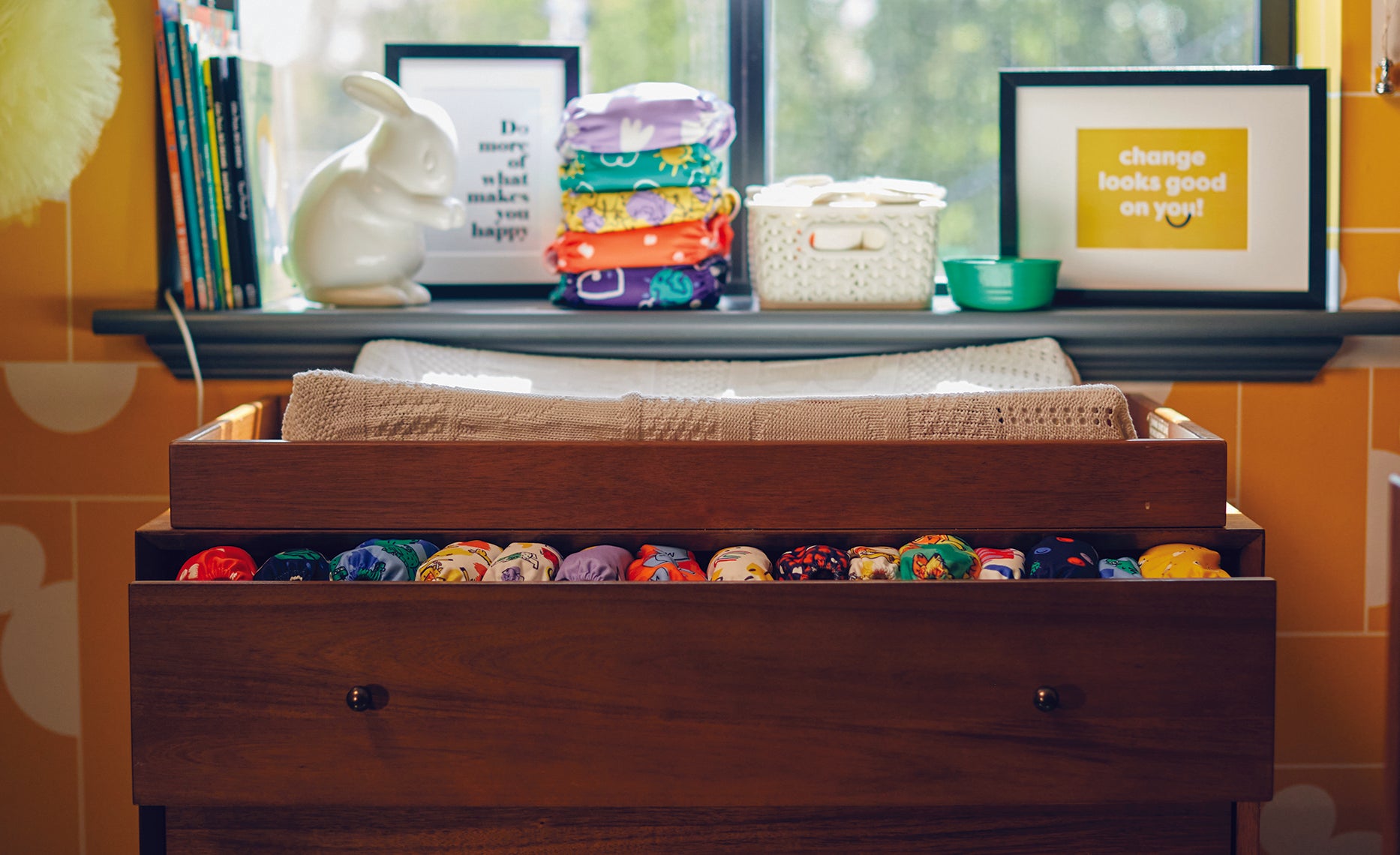 Prepping your change station
The changing table is a place you'll spend a fair amount of time at with a baby so it's worth investing a little bit of planning into getting the set-up just right. If you're preparing for the arrival of a newborn and in the 'nesting' phase then it's extra exciting as you'll be imagining the time you'll spend together there.
It's likely that not only will you use this space to change your baby's nappy but you'll also use it to dry your baby after the bath, lay little games and change their clothing too.
It's easy to think that you need a special piece of furniture that has been designed specifically for this task but in actual fact, a safe, flat surface at the right height and some extra storage is all you need.
Of course, there are some great options out there that coordinate with other nursery furniture but it's also really easy to opt for a fairly functional unit and make it your own through decoration and organisation.
So, to make your change station work for you if you're using reusable nappies, there are just a few specific things you'll want to take into account.
What do you need to include in a changing table?
One of the key aspects of fuss-free changing is being organised. This doesn't mean you need to transform into the Marie Kondo of maternity but it does mean putting a little bit of thought into exactly where each baby item should be stored.
So, let's start with a good old list shall we?
1. Firstly, quite obviously, the changing unit. As previously mentioned, you might decide to turn a functional piece of storage or furniture into a change table. To do this you'll just need to take into account the height of the unit, if the top surface is safe for your baby to be placed on to and whether your changing mat fits.
2. A changing mat. There are lots of options on the market, from sloped and shaped varieties to ones that include patterns and woven basket styles. It's worth considering how easy it is to clean because fairly soon it will be something you'll be very aware of after the 8-10 changes a newborn baby requires per day. Look out for wipeable or removable covers that can be put in the wash.
3. Small storage. Separating out some of the smaller items you need will really help make change time easier for everyone. Before long, your baby will become quite the little wriggler so the easier you can get your hands on what you need, the better.
4. Clean nappies – we recommend 20 nappies to ensure you have enough clean while some are in the wash. Our super-stylish and colourful nappies look great out on show so if you have a shelf beneath the changing surface or above, create some neat little nappy stacks – we guarantee they will raise a smile.
5. Boosters – all of our nappies come with a daily booster but you also might choose to have some mini boost and flexi boost too. Fold or roll clean boosters and sore them in a box or basket.
6. Liners. If you are choosing to use either Revolutionary Reusable nappy liners or Messless liners, these too should be within easy reach of your change station. Store them in another small storage container near to your nappies and booster for easy one-handed access.
7. Reusable wipes. Much like your boosters and liners, your clean reusable wipes should be stored in their own little section so they don't get mixed up. These don't need to be folded or rolled as its likely they get scrunched as you use them
8. Water container. For this you ideally need a shallow, washable container that can be placed within reach of your change station yet not too close to the kicking legs of your baby. Many people opt for a dish on a nearby shelf or windowsill or even a small pot that can be hooked onto the side of your changing unit. You want it to be big enough to be able to dip your hand with wipe into the clean water but not so big that it's difficult to carry from the tap with one hand. On the market you'll also be able to find purposely designed containers (often called Top and Tail bowls) which have a space for clean water for bottoms and a separate area for water for faces.
9. Creams and lotions – according to NHS guidelines, newborn babies do not need any lotions or creams for the first few weeks, clean warm water is just fine. After that you can start introducing a lotion or cream as necessary.
10. A place to dispose your dirty nappies. Our Stay-at-home wet bag is perfect for this task as the straps allow you to attach the bag to places by repositioning the poppers.
11. Clothing. If your changing surface sits above a chest of drawers then you'll have baby clothing within easy reach, however if you don't perhaps just place your clothes storage nearby if possible.
What reusable nappies and accessories should I get in preparation for the arrival of my newborn baby?
Super-convenient and cost-effective, the Changemaker bundle contains all the nappies you'll ever need all the way from birth to potty including 20 nappies and accessories.
---