Your Reusable Nappy Troubleshooter
Share Options
Bambino Mio
15 / 11 / 2023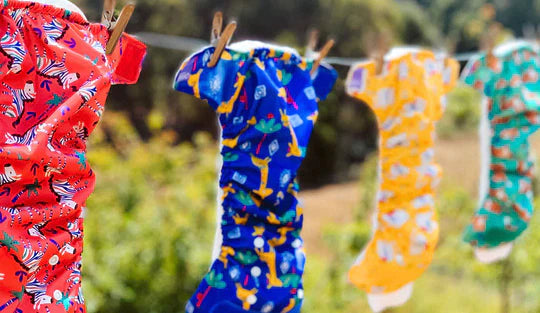 Inside this Article:
Going on the reusable nappy journey is great. You're saving money, you're reducing your carbon footprint and your plastic usage, as well as giving your baby's bum the very best start in life.
From time to time, however, you might hit a few snags or have recurring issues with your reusable nappy bundle that leave you a bit perplexed. Two issues you might face are unexpected leaks and strange smells (other than the usual smells you can expect with a baby…).
The good news is that the reusable nappy gurus at Bambino Mio have all the answers right here for you in this handy troubleshooting guide. Hold your nose and dive in!
Your baby's reusable nappies are leaking
You should aim to change your baby's cloth nappies every two to three hours during the day and as soon as possible once you notice there's a poo in there.
If your washable nappies are regularly leaking before the two hours are up then there's a few potential reasons for this:
Your baby is a heavy wetter and needs a booster pad to help to soak up their "extra" wee (still change every two hours)

Your baby's nappy isn't fitting them as well as it could - if it's too tight the wee can be squeezed out of the absorbent core (known as a compression leak) and if it's too loose the wee is escaping before it hits the nappy so try some adjustments

Your baby might be a bit too small for their nappy - even with

nappies that grow from birth to toddlerhood

you might 

have to be extra vigilant for a few weeks until your baby has gained enough weight to fit their nappy properly

It might be the case that your baby's clothes are too small for a reusable nappy, as they're bulkier and need looser clothes or onesie extenders to avoid pressure on the nappy, as tight clothing can also cause compression leaks

You've used too much nappy cream on your baby's bum and it's formed a waterproof barrier on the fabric of their nappy, so give your nappies a good wash and use liners to protect them from the cream

You've used fabric conditioner on your nappies and this can reduce their absorbency over time, as well as irritate your baby's skin - a good long wash and rinse is usually the answer

If you're using nappy boosters, use them smartly by folding the fabric double at the front for a boy and underneath for a girl so it's in the right place to catch the wee at the source


Your baby's reusable nappies are smelly even after washing
We all know that babies' nappies tend to smell, but they're only supposed to smell when there's a poo about! If you're finding your nappy bundle has an unpleasant sort of smell to it after you've washed and dried it, there could be a number of reasons, including:
Your nappies aren't quite 100% dry before your stash them back at your changing station and being refolded stops them from drying further, leading to a stagnant or musty smell

You're not using enough water in your washing cycles - you need to rinse everything out before drying your nappies - 

detergent as well as wee and poo - so add an extra rinse cycle

Avoid your washing machine's eco mode; while it's great that modern washing machines strive to save resources, the eco mode can backfire by not using enough water

You're not using enough detergent, so you're not washing away quite enough of the soiling - add a touch more next time and see how you go

You're using too much detergent and it's not being rinsed away so detergent residue in building up on the fibres which can harbour bacteria and hold onto tiny amounts of waste, so try reducing the amount you use

You're using fabric conditioner which can build up on the fibres and start to trap various nasties and provide a nice playground for bugs
Your baby's reusable nappies have stubborn stains
We all love to imagine fluttering rows of reusable nappies on a washing line, billowing to fluffy white dryness on a breezy day…
The reality is that despite the breezy day and the dryness and all, your cloth nappies might not stay all that white for long. While wee usually washes out really well, especially if you wash every other day, poo - in particular the bilirubin in it - can leave a somewhat lasting impression.
Stains in themselves are harmless. Bilirubin (1) is the pigment produced by the breakdown of red blood cells and which gives poo its brown colour. It's harmless, so if you don't mind a bit of staining, you don't need to do anything.
However, you might prefer to see your cloth nappies pristine, so if you're wondering how to brighten up your reusable nappies, here's some stain removal ideas:
Sunlight is one of the best natural stain removers as it changes the shape of stain molecules, making them invisible, so dry your nappies in direct sunlight whenever possible

Avoid using chlorine-based bleaches on cloth nappies as they can damage the fabric, as well as being full of harsh chemicals which could cause irritation

You can use an

oxygen bleach

(2) for stain removal - our

Bright & Mighty laundry cleanser

can help to remove stains, even ones left behind by runny breastfed baby poop

Use nappy liners to catch the worst of any poo,

our reusable liners

are grey, so you can just overlook any stains on them and focus on the bright side of life (we mean the white parts of your nappies, btw…)

If you are using reusable nappy liners, you should try to store and wash particularly pooey ones separately from your nappies as bilirubin is a pesky old pigment and might get onto your brilliant white stash during a wash
At Bambino Mio, we recognise that life doesn't have to be perfect to be enjoyable and this philosophy extends to our reusable nappies. We designed them with fun, comfort and love in mind so if you feel the need to reach out with a problem, be it a weird stain or smell, just give us a shout and we'll be there for you.
Citations and References
(1) National Institutes of Health (NIH). National Library of Medicine. 'Physiology, Bilirubin.' 2022. Web. www.ncbi.nlm.nih.gov/books/NBK470290
(2) Science Notes. 'Oxygen Bleach vs Chlorine Bleach.' 2022. Web. sciencenotes.org/oxygen-bleach-vs-chlorine-bleach
---