How to Hold a Newborn Baby
Share Options
Bambino Mio
16 / 10 / 2023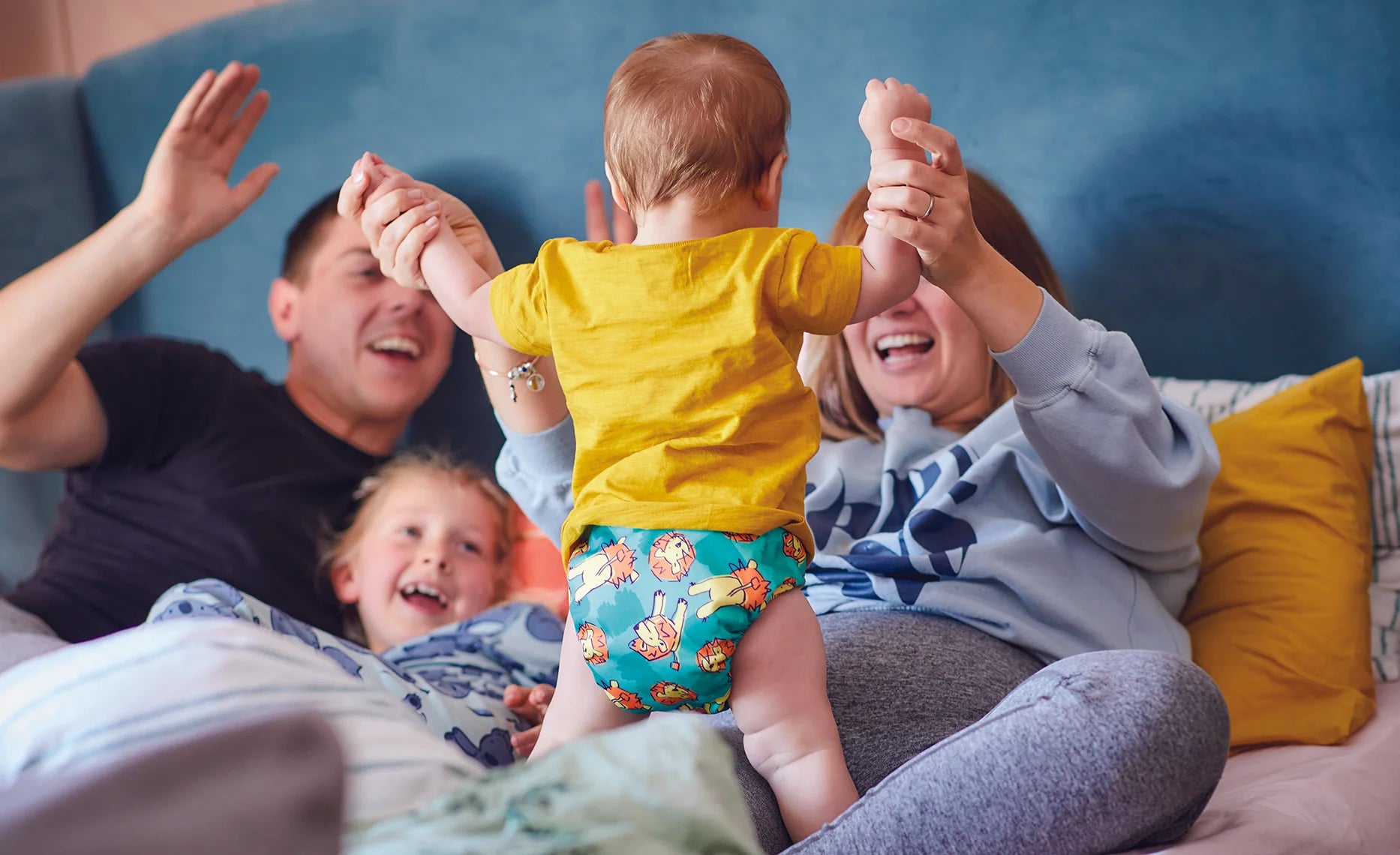 For many parents these days, the first baby they get to hold is their own! It can feel quite daunting to suddenly have this tiny, incredibly vulnerable being in your arms and you can't help but wonder if you're holding them properly and safely.
Luckily, we've got a comprehensive guide to holding your baby, so read on to find out more.
Start by washing your hands
You should wash your hands frequently when you're with your baby and especially after you've changed their nappy. Your baby's immune system is still developing (1) and so everyday bugs could make them sick. Hand sanitiser will also work well when you're out and about.
Get yourself comfortable
If you're sitting comfortably then you'll feel more confident in holding your baby. You'll also feel safer if you're seated as you won't worry so much about dropping them - a common fear among new parents.
Support your baby's head and neck 
The most important thing to remember is to use one hand to support your baby's head and neck. Your baby's head is the heaviest part of their body and they won't develop enough strength and control in their neck muscles (2) to hold their head up until they're around four months old.
Choose your holding position
Holding your baby starts with picking them up, which involves putting one hand under your baby's head and neck and another hand under their bottom, before lifting them up to your chest level.
The position you hold your baby in is up to you, but make sure you're supporting their head and neck. Some positions work better for different purposes, for example you'll want to hold your baby upright against your chest for post-feed winding.
The cradle hold
The cradle hold is ideal for newborn babies as it's easy and offers them a lot of comfort and security. This hold also leaves one arm free to do other things or to provide a bit of extra support.
Lean over your baby so they're just under your chest and slide one arm up under their bottom up to their neck. Pick them up and manoeuvre their head so that it's in the crook of your other arm.
Gently move your picking up arm away from your baby's body, making sure that their head is supported by your other arm and then cuddle your baby to your body.
The shoulder hold
Your baby's body should be parallel with your own (head to head, feet to feet). Slide your hand and arm under your baby's bottom towards their head and pick them up, lifting their head up to your shoulder level.
Rest your baby's head on your shoulder and support their head with one hand and their back and bottom with the other. This position helps your baby to hear your heartbeat and is also good for babies who have reflux (3) or need a lot of winding after feeding.
The belly hold
Lay your baby stomach down across your forearm with their head towards your elbow and their feet towards your hand. Their feet should lie either side of your hand and be slightly lower than their head so your baby is at a gentle slope.
This is a great position for unsettled babies as it can help them to burp after feeding and it lets you sway them from side to side very gently.
Always check your baby's comfortable
Monitor your baby's mood when you're holding them and if they seem uncomfortable or fussy, try another type of hold. You can also rock or sway them to help them to relax, as long as their head and face are never pressed against you so they can breathe easily.
Quick tips for holding your baby
Skin-to-skin contact is really good for bonding and for helping your baby to feel secure, so undress your baby to their nappy and place them inside your shirt or dress (cover with an extra blanket if necessary
If you feel nervous about holding your baby you can start by sitting down with them until you feel more confident
Baby carriers, wraps or slings are invaluable for hands-free holding as the straps or fabric feel like arms and your baby is nestled against your body
Don't carry hot drinks, knives or candles while you're holding your baby as this could lead to accidents or injuries
Holding your baby will soon feel natural
There's no right or wrong way to hold your baby as long as they can breathe and they're safe and supported. You'll soon work out the best way to hold them and before you know it, picking them up and holding them will be second nature.
Citations and References
(1) Cleveland Clinic. 'Is Your Newborn Baby's Immune System Strong Enough?' 2021. Web. health.clevelandclinic.org/is-your-newborn-babys-immune-system-strong-enough
(2) Healthline. 'When Will My Baby Hold Their Head Up on Their Own?' 2021. Web. www.healthline.com/health/baby/when-can-babies-hold-their-head-up
(3) National Health Service (NHS). 'Health A to Z. Reflux in Babies.' 2021. Web. www.nhs.uk/conditions/reflux-in-babies
---