Old Reusable Nappies: Innovative Ways to Repurpose Old Reusable Nappies
Share Options
Bambino Mio

Planet

Product

09 / 06 / 2023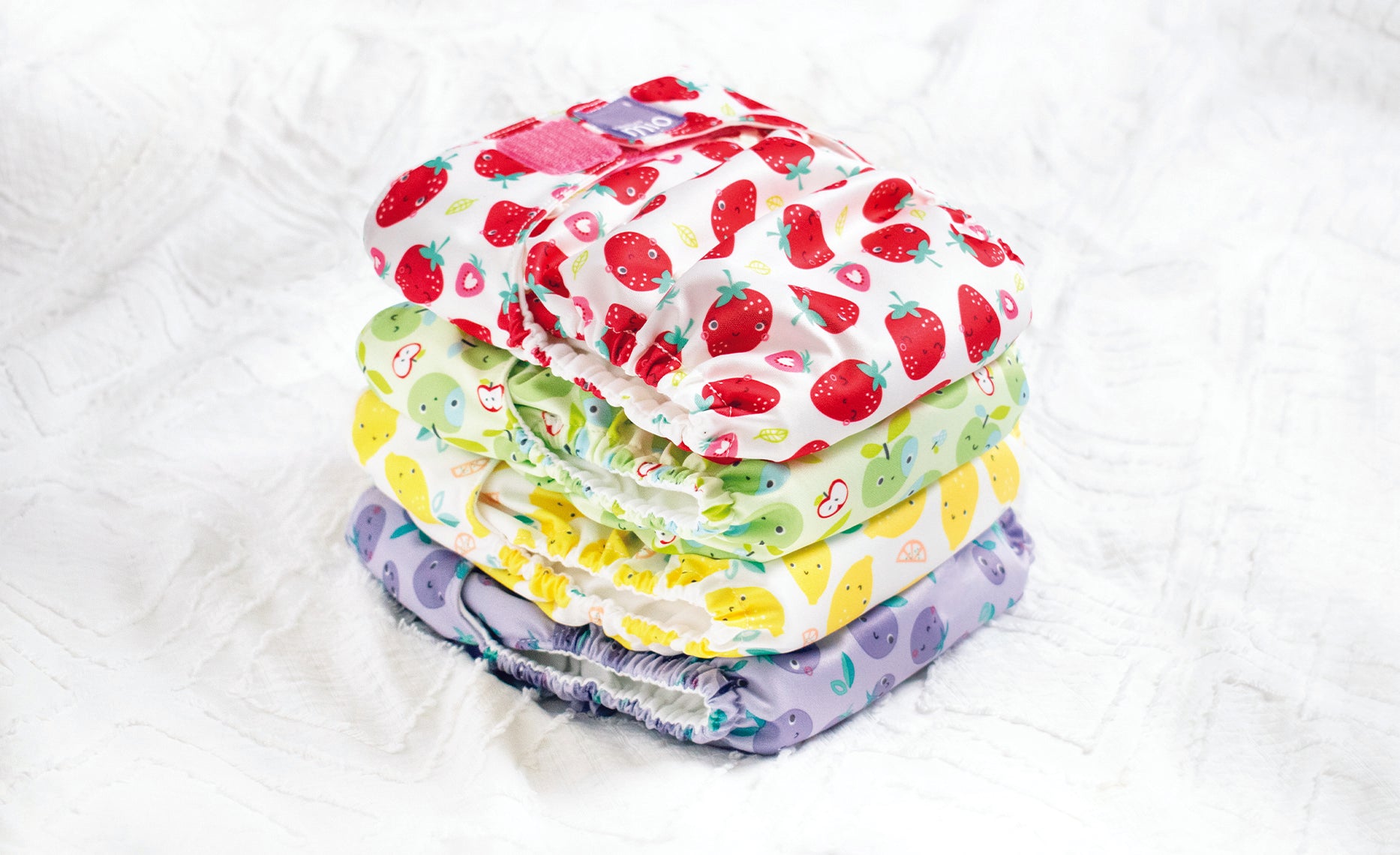 Find out what you can do with your reusable nappies when you no longer need them in our handy guide.
How long do reusable nappies last for?
A bundle of 20 reusable nappies, if you've looked after them well, should last you for at least 400 wear and wash cycles each.
Bambino Mio did some incredibly complicated calculations and worked out that this means your nappies should see you through two children if you're careful.
If you're very careful, or if you build up an impressive stash, then each nappy will live that little bit longer because it has lots of colleagues to share the load with. Your nappies could last you for four or even five years.
What do you do with unwanted reusable nappies?
Your bundle of nappies has saved you around £500 per child, reduced your carbon output by 25% and prevented 5,000 nappies (per child) from ending up in landfill for centuries.
They've grown with your baby - and with you. You've grown to love them, too, with washing dirty nappies then drying and folding clean nappies becoming a relaxing fixture in your schedule.
However, time marches on and the day will eventually come when you no longer need your cloth nappies. This could be because your children have aced their potty training or because your washable nappies have been loved so much they're looking a bit threadbare.
There
'
s a lot you can do with old reusable nappies
Unlike disposable nappies, washable nappies don't have to end their days clogging up landfill sites. They can still be useful in many ways and here's a round up of our favourites.
You can use your reusables on younger children
They don't even have to be your children! If you've cared for your reusable nappy stash really well then there'll still be plenty of life left in them. Maybe even enough to take another baby from birth to toddlerhood.
Bambino Mio's two-part nappies are ideal for long-term use because you can replace just the waterproof covers if they're the component that has taken the brunt over the years.
You can sell your reusable nappies
Washable nappies, cloth wipes, booster pads and wet bags sell really well and lots of families buy small numbers of extra nappies and accessories to add to their existing pile.
High quality reusable nappies like Bambino Mio's will hold their value and so once you're finished with them you can sell them on to another family.
Pass your old reusables onto friends and family
If you have a friend or relative who's interested in reusable nappies, then passing on some of your stash will help them over the line because they can try out a few before coming to us to add to their stash!
Donating old nappies to reusable nappy libraries is also a great idea because you'll be helping to bring more people into the modern cloth nappy fold.
You can repair your tired reusable nappies
If you have some waterproof wraps with loose elastic then you can try to repair it. You can also replace broken poppers with Kam snaps to give your cloth nappies a new lease of life.
If the Velcro tabs on your nappies aren't holding like they used to then you can either clean them with a seam ripper to remove impacted hairs and fibres or sew new tabs on.
Even if your reusable nappies are beyond reasonable repair then your local cloth nappy library and antenatal class might want them to use in demonstrations.
Turn your reusable nappies into something new
If your cloth nappies aren't quite up to the job anymore, they can be repurposed as cleaning cloths. They have the right materials to soak up spills and a good wash with an oxygen-based bleach will sanitise them so they're safe to use for household cleaning.
You could also turn your old washable nappies into period pads - there are lots of templates and patterns online and if you're handy with a sewing machine they shouldn't take too long to make.
Recycle your old reusable nappies
Reusable doesn't mean eternal and so if your cloth nappies are beyond help, or if they've already had a reincarnation or two, then you can take them to your local textiles recycling depot or to a recycling centre.
Citations and References
(1) Department for Environment Food & Rural Affairs (DEFRA). 'Life Cycle Analysis of Nappies/Absorbent Hygiene Products 2021/23' 2023. Web. randd.defra.gov.uk/ProjectDetails?ProjectId=20622
(2) Guardian. 'Plastic Can Take Hundreds of Years to Break Down – and We Keep Making More.' 2022. Web. https://www.theguardian.com/commentisfree/2022/aug/08/plastics-climate-crisis-environment-pollution-kim-heacox
---