How Many Reusable Cloth Nappies Does a Baby Need?
Share Options
Bambino Mio

FAQs

Parent Life

Product

09 / 06 / 2023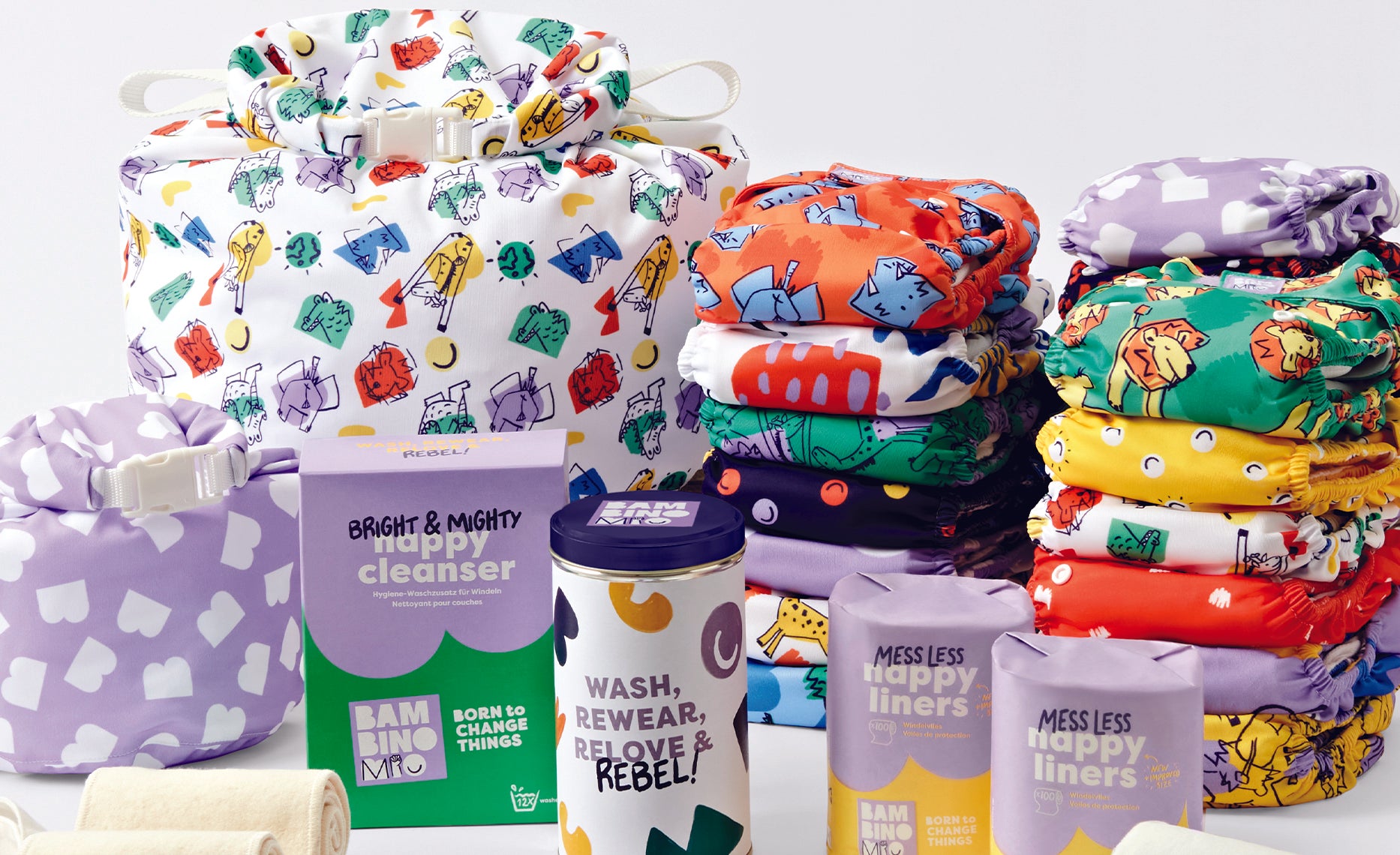 We all want a better, safer world for our children and one way for you to reduce the amount of plastic you send to landfill is to opt for reusable nappies for your baby. Reusables can save you lots of money - especially if you use the same set with younger siblings - and they reduce your nappy carbon footprint by up to 40%. What's not to love?
So now you've made the decision to go reusable, you'll be wondering how to use washable nappies and, perhaps most crucially, how many you need to see you through to potty training.
How many washable nappies is enough?
While there's no definite number anyone can give you for certain, Bambino Mio recommends that you at least start off with 20 washable nappies. 
Why start off with 20 reusable nappies?
On average, you'll change a newborn baby's nappy between six and eight times a day. So, using this as a guide, a set of 20 washable nappies means you can wash and dry one half of your set whilst your baby is wearing the other half. When the next day rolls around, you wash and dry the previous day's nappies and so on.
Of course, if you'd prefer to wash soiled nappies every other day, then you can always buy another set and do a larger load every other day. Washing larger loads reduces your CO2 output even further, which makes us all very happy.
Bambino Mio's The Changemaker Bundle contains everything you need to start your reusable nappy journey, including a nappy bin and two laundry bags. Simply place the nappy bag in the bin and then transfer the full bag into the washing machine when you're ready - you don't need to directly handle any nappies until they're all clean once again.
Can we really go from birth to potty training with just 20 nappies?
It really does seem amazing to think that you only need to buy 20 reusable nappies when the average baby will get through between 5,000 and 7,000 disposables before they're potty trained. 
However, with careful washing and a bit of TLC, those 20 nappies can be used again and again. Of course, you might add a few extra ones here and there - Bambino Mio sells single nappies as well as sets so if you find you need a couple more, we're here for you.
Will my baby need more than 20 nappies?
There are a few factors which can lead to your baby needing more than 20 reusable nappies. Your baby might, for example, be a heavy wetter or you might not want to do a daily washing load so you need 24 nappies rather than 20.
How you dry your reusable nappies also affects your ideal number. If you can usually dry the nappies within 24 hours of washing, you can probably get by with 20, but if you rely on a washing line or drying rack then you might need a few "emergency" extras. 
Adding to your nappy stock reduces wear and tear
Your reusables will work really hard for you and despite washing them with a non-biological detergent and using a laundry booster, there will be a bit of wear and tear over the years. Sharing the burden between 20 or 24 cloth nappies will reduce the wear on each individual nappy so another baby can use them in the future - and the future is what we're all about.
---