How to Have a Baby
Share Options
Bambino Mio
08 / 05 / 2023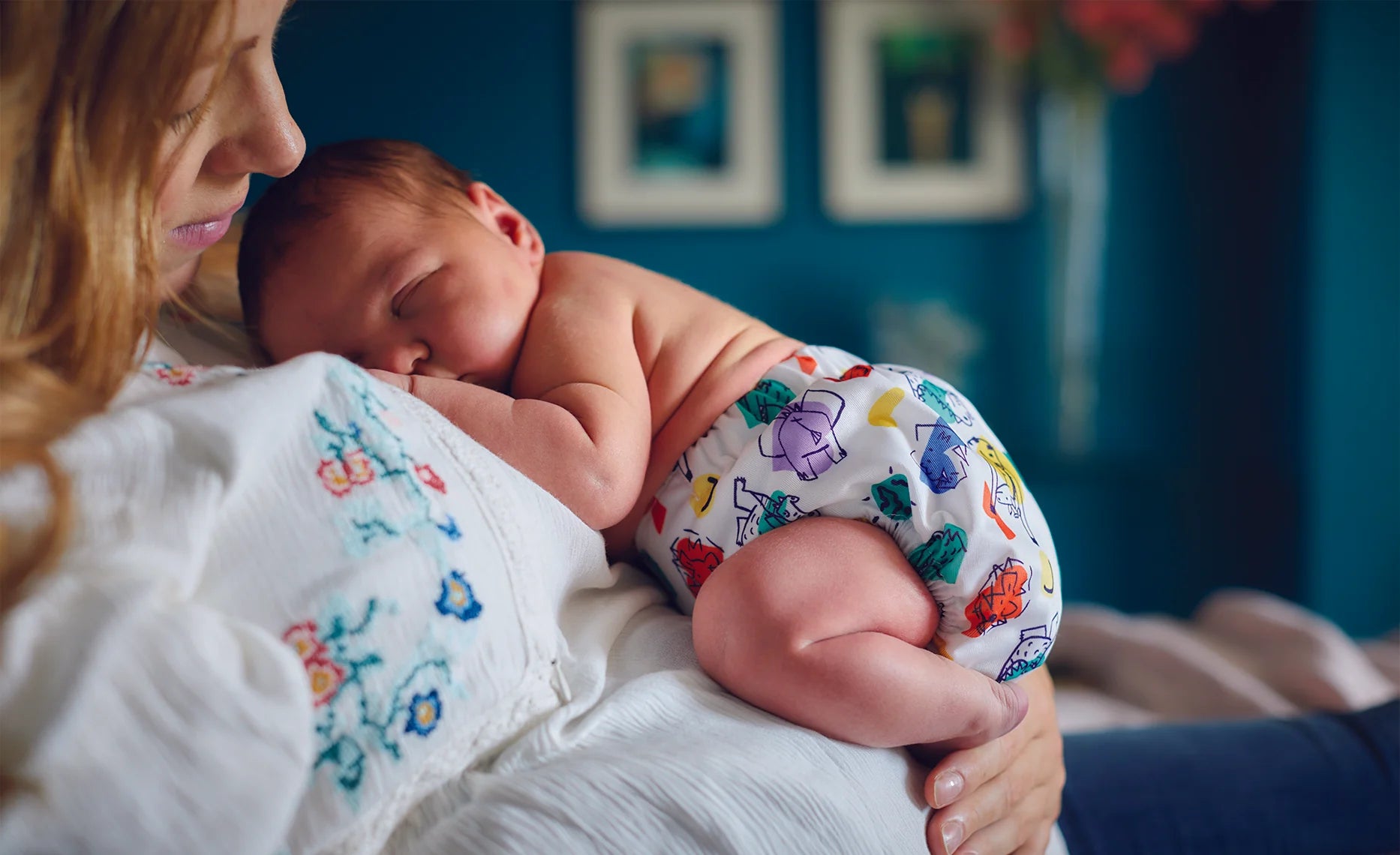 Our guide on how to have a baby contains everything you need to know about getting pregnant, what to expect at every stage and tips for a happy, healthy pregnancy. 
Planning and preparing for pregnancy
Pregnancy is an exciting and joyful experience, but it can also be tiring and sometimes stressful. You're growing another human being, after all, and this is bound to place some demands upon your body!
This is why it's important to be in good shape, physically and mentally, before you get pregnant so that you have more chance of enjoying a straightforward pregnancy.
Maintaining a healthy lifestyle
A balanced and healthy diet will help to nourish your body before you get pregnant and during pregnancy so that your body can in turn nourish your growing baby.
Cutting out alcohol and quitting smoking (or vaping) is also very important as they're both linked to problems such as premature birth and health issues during childhood.
Staying at a healthy weight is also important when you're planning to get pregnant, as being very underweight or overweight can reduce your chances of conceiving and can make pregnancy tougher. 
Visiting your GP or midwife
If you're planning to get pregnant and you have physical or mental health concerns, or if you just want some confidential advice, then your GP is your go-to person.
Once you know you're pregnant, you should make another appointment with your doctor to start off your antenatal care programme. You'll be assigned a community midwife who you'll see throughout your pregnancy to make sure everything's progressing nicely.
Understanding your fertility and ovulation
A woman has a fertile "window" of 24 to 48 hours each month when there's an egg released (known as ovulation) and ready for a sperm to fertilise it. If you're planning to get pregnant, this (and the day or so beforehand) is the best time to have sex.
This window is almost always in the middle of your menstrual cycle, so it's important to track your cycle so you know when the middle part is - usually 12 to 16 days before your period is due.
Ovulation predictor kits and fertility monitors
You can also use ovulation predictor kits and monitor your body temperature to work out if you're ovulating.
Ovulation predictor kits (OPKs) look for a sudden rise in luteinising hormone (LH), which is the hormone "telling" your ovaries to release the egg.
If you're charting your body temperature, you'll be looking for a rise, although you might not find this as reliable as an OPK. 
The pregnancy journey
Congratulations, you're pregnant! You'll probably feel excited, happy and quietly terrified all at once and this is perfectly normal. Your emotions and body are in for some big changes over the next nine months so it helps to have a rough idea of what to expect.
The three trimesters
Trimester means three months and pregnancy is divided up into three lots of three months because they do actually have their own characteristics. No two pregnant women are alike, of course, but things tend to follow a general pattern over the course of a pregnancy.
The first trimester (0 - 13 Weeks)
The first trimester is the one that's most crucial to your baby's development as it's the period when the body structure and vital organs develop.
You'll also notice the biggest changes yourself during this period, including the delights of tiredness, morning sickness and swollen, painful breasts. You might also need to wee more as all the activity going on near your bladder stimulates it.
As well as physical symptoms like tiredness and nausea, you might feel more emotional than usual. Then again, you might feel deliriously happy. For a little while, anyway. Then you'll see a kitten meme and you'll start crying again.
The second trimester (14 - 26 Weeks)
This is known as the "golden period" because a lot of the nausea and tiredness has dissipated and you might start feeling and sleeping better.
Some other niggles may creep in, though, such as back pain, heartburn and constipation. To make up for this, you might also be able to feel your baby moving and kicking at around 20 weeks.
The third trimester (27 - 40 Weeks)
You're in the home stretch now and you'll be looking forward to the birth of your baby. You'll also be looking forward to the end of third trimester delights such as shortness of breath and a bladder that's the size of a (squashed) tangerine. You might also find your sleep is disturbed and it's not unusual for women to have strange dreams during this final trimester, so don't worry.
Preparing for labour and birth
As your due date approaches, you'll need to start making plans for the birth. Your midwife will probably recommend antenatal classes, usually at your local hospital's maternity unit, and you'll also need to decide whether you want a hospital or home birth.
Creating your birth plan
Your birth plan is a written record of what you'd like to happen when you're in labour and during your postnatal care immediately after the birth. Giving birth can be quite hectic, so if your maternity team knows your preferences for pain relief, interventions and even your choice of music then you can keep your mind on the business of having a baby!
Caring for your newborn
Your baby is finally here and everything is a blur of feeds, nappy changes and the happiest exhaustion you'll ever feel.
Feeding your baby
Breast or bottle - whichever way you choose is the best way. All your baby needs is warm milk and cuddles while you get to know each other and get into a routine.
When to start using reusable nappies
You can start using reusable nappies on your baby as soon as they're born! Bambino Mio's nappy bundles have everything you need to start your reusables journey - your baby deserves the very best and that includes a cleaner planet, right?
FAQs
How can I increase my chances of getting pregnant?
Cutting out alcohol and tobacco, eating healthily and monitoring your ovulation will increase your chances of conceiving. Having sex during your fertile window is important as the egg is only viable for 24-48 hours.
How do I know when I'm ovulating?
You can use ovulation predictor kits to detect the spike in luteinising hormone so you know when the egg is about to be released. You might also feel hot and some women get mittelschmerz - a sharp pain around the active ovary - when the egg is released.
Which prenatal vitamins should I take before and during pregnancy?
It's recommended that you take a folic acid supplement for three months before you plan to conceive and for the first three months of pregnancy to help your baby develop properly. You may also want to take vitamin D, vitamin C and iron supplements; your doctor will advise you.
What should I pack in my hospital bag?
Your hospital bag basics should include clothes for you and for your baby's first few days, as well as any medication you need, your hospital notes, nappies, wipes, snacks and toiletries. Read our guide here to find out what you need to put in your hospital bag.
Citations and References
(1) National health Service (NHS). 'Have a Healthy Diet in Pregnancy.' 2023. Web. www.nhs.uk/pregnancy/keeping-well/have-a-healthy-diet 
(2) National Health Service (NHS). 'Drinking Alcohol While Pregnant.' 2023. Web. www.nhs.uk/pregnancy/keeping-well/drinking-alcohol-while-pregnant
(3) National Health Service (NHS). 'Stop Smoking in Pregnancy.' 2023. Web. www.nhs.uk/pregnancy/keeping-well/stop-smoking
(4) National Health Service (NHS). 'Why Your Weight Matters in Pregnancy.' 2021. Web. www.esht.nhs.uk/wp-content/uploads/2021/01/0853.pdf
(5) National Health Service (NHS). 'Your Antenatal Care.' 2020. Web. www.nhs.uk/pregnancy/your-pregnancy-care/your-antenatal-care
(6) National Health Service (NHS). 'Periods and Fertility in the Menstrual Cycle.' 2023. Web. www.nhs.uk/conditions/periods/fertility-in-the-menstrual-cycle
(7) National Health Service (NHS). 'How Can I Tell When I'm Ovulating?' 2022. Web. www.nhs.uk/common-health-questions/womens-health/how-can-i-tell-when-i-am-ovulating
(8) National Health Service (NHS). 'Where to Give Birth: The Options.' 2021. Web. www.nhs.uk/pregnancy/labour-and-birth/preparing-for-the-birth/where-to-give-birth-the-options
(9) National Health Service (NHS) 'How to Make a Birth Plan.' 2021. Web. www.nhs.uk/pregnancy/labour-and-birth/preparing-for-the-birth/how-to-make-a-birth-plan
(10). National Health Service (NHS). 'Breastfeeding: The First Few Days.' 2023. Web. www.nhs.uk/conditions/baby/breastfeeding-and-bottle-feeding/breastfeeding/the-first-few-days
(11) National Health Service (NHS). 'Bottle Feeding Advice.' 2012. Web. www.nhs.uk/conditions/baby/breastfeeding-and-bottle-feeding/bottle-feeding/advice
(12). National Health Service (NHS). 'Ovulation Pain.' 2019. Web. www.nhs.uk/conditions/ovulation-pain
(13). National Health Service (NHS). 'Vitamins, Supplements and Nutrition in Pregnancy.' 2020. Web. www.nhs.uk/pregnancy/keeping-well/vitamins-supplements-and-nutrition
---