How Many Nappies Does a Baby Typically Need in Their Lifetime?
Share Options
Bambino Mio
16 / 10 / 2023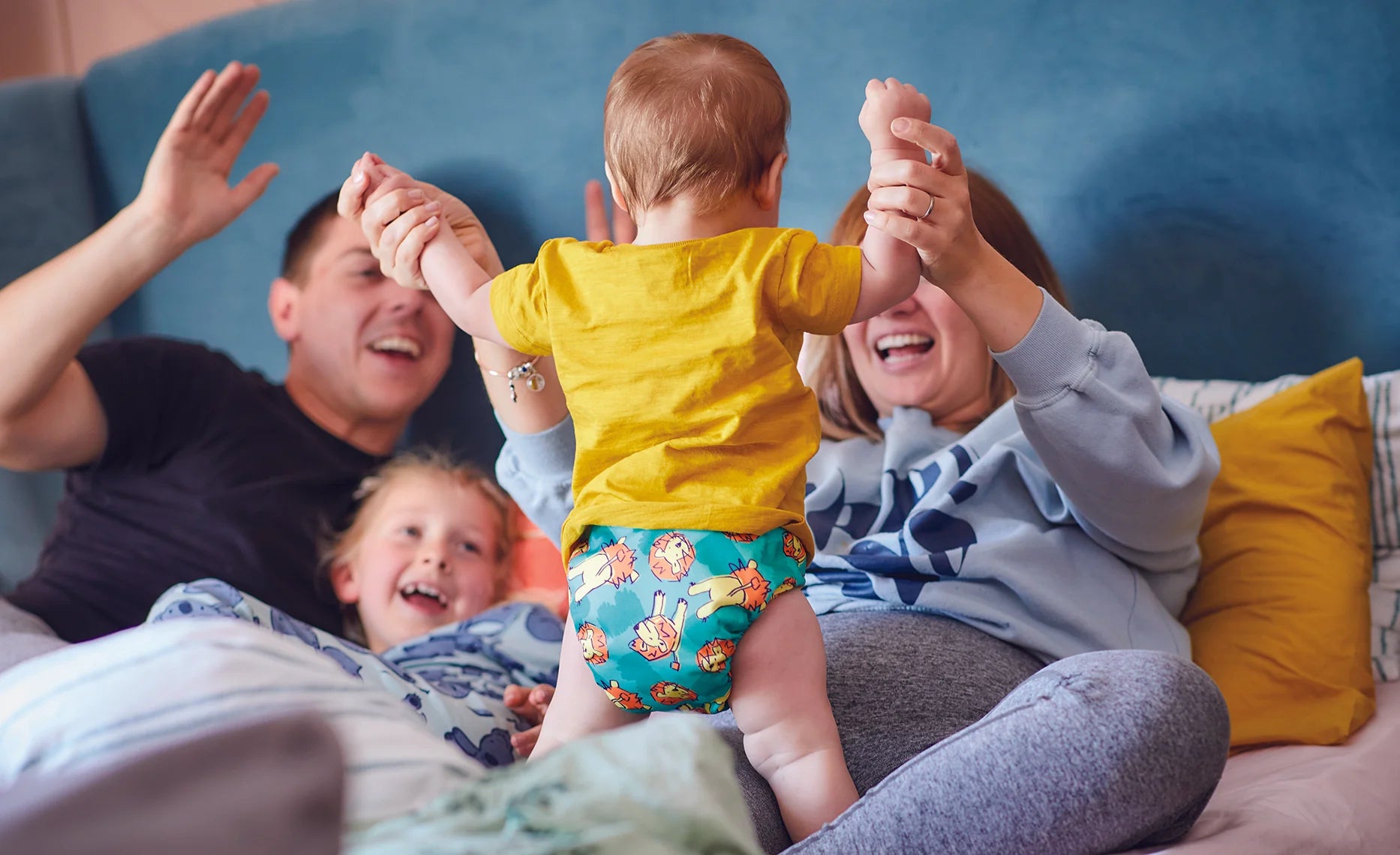 Lots of expectant parents joke about changing lots of nappies when their baby first arrives, but only a few are actually prepared for the sheer number of changes they'll have to do!
A newborn baby will typically need between 10 and 12 nappy changes a day, which adds up to anything between 350 and 370 nappies a month for those first few months. 
Even though this number reduces as your baby grows, you can still expect to get through between 2,500 and 3,000 nappies by your baby's first birthday!
Your baby will get through around 5,000 nappies before they're potty trained
That's a lot of nappies! The second thing you'll think about when you see that number, after wondering how you'll find the time, is how much all these nappies will cost.
You could spend between £1,000 and £1,200 on your child's nappies
Our maths wizards put their heads together and worked out that 5,000 or so nappies at an average cost of 20 pence per nappy adds up to £1,000 to £1,200 over the time your child is wearing them.
Worried about the cost of nappies? Our Revolutionary Reusables are here to save the day
We all need a hero in our lives at some point and this is where our Revolutionary Reusable nappies come in. Our Changemaker Bundle, which costs £287.99, will save you a bundle (of cash, that is) as it has everything you need to start on your reusable nappy journey.
Our maths bods also factored in the cost of washing your nappy stash and this adds up to around £175 over the 2.5 to three years your baby is in nappies.
You'll also be saving a lot of carbon with reusable nappies
If your baby's 5,000 or so nappies are single use or disposable nappies, they'll have used up 403kg of CO2 in their production. They'll also mostly end up in landfill, where they'll stay for hundreds of years as the plastic components degrade so slowly.
Opting for our reusables, however, reduces this figure to 33.5kg of CO2. Of course, washing and drying your reusable stash emits CO2, but as the UK's energy grid becomes decarbonised (1), these washing-related-emissions could fall by up to 93% if you use your nappies on two children.
Using reusable wipes can also save you money
Another running expense when you have a baby is the wipes you'll need at each nappy change, so ditch single-use wipes and go reusable.
On average, you'll use one or two wipes when you change a wet nappy and anything between seven and 10 for a pooey nappy. According to The Nappy Alliance (2), this works out at around 260 packs of wipes until your baby's potty trained, which can in turn, if you're using branded wipes, add up to more than £250 per year!
You can simply throw your reusable wipes into your washing machine with your reusable nappies
Adding reusable wipes to your laundry won't add a great deal of expense - just £6 per year (3), which is small change compared to the £250 you could be spending.
That small change you spend on your reusable wipes represents a big change to our waterways (4) and to the rest of the environment. We don't just owe our children a clean bum, we owe them a clean planet.
Citations and References
(1) Department for Business, Energy & Industrial Strategy (BEIS). 'BEIS Net Zero Strategy Charts and Tables.' 2022. assets.publishing.service.gov.uk/government/uploads/system/uploads/attachment_data/file/1066450/nzs-charts-tables-v1.1.xlsx
(2) The Nappy Alliance. 'Cost of Living Crisis - Are Reusable Wipes Worth It?' 2022. Web. www.nappyalliance.co.uk/cost-of-living-crisis-are-reusable-wipes-worth-it
(3) The Nappy Alliance. 'Cost of Living Crisis - Are Reusable Wipes Worth It?' 2022. Web. www.nappyalliance.co.uk/cost-of-living-crisis-are-reusable-wipes-worth-it
(4) Water UK. 'Public Urged to Bin "Harmful" Wet Wipes as over a Fifth Admit to Flushing Down the Toilet.' 2023. Web. www.water.org.uk/news-views-publications/news/public-urged-bin-harmful-wet-wipes-over-fifth-admit-flushing-down
---